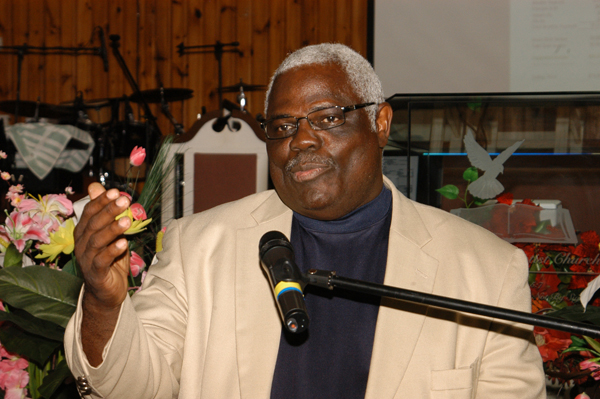 Minister of Housing the Hon. Kenneth A. Kenneth Russell addressed a town meeting in Pinders Point on Friday, April 17. He confirmed that the new Government Housing Subdivision in Hawksbill would be called the Sister Mary Patricia Estates.
Freeport, Bahamas — The Government's new housing subdivision at Hawksbill, Grand Bahama will be named in honour of well-known Catholic Nun, Sister Mary Patricia Russell who passed away almost 15 years ago.
Housing Minister, the Hon. A. Kenneth Russell made the announcement while meeting with residents of Lewis Yard, Hunters, Mack Town and Pinders Point during a Housing meeting at the Upper Zion Baptist Church in Pinders Point on Friday.
He also used the occasion to inform the residents of the availability of homes in the Sister Mary Patricia Estates, situated at Hawksbill.
Mr. Russell told them he had come to meet with them to keep a promise that residents of those areas would have preferential treatment in the allocation of homes when they become available.
The promise was made in 2005 when Hurricane Wilma caused major devastation to homes, apartments and cemeteries in the area.
Since then, a number of persons have restored their homes and the government has spent thousands of dollars in constructing sea walls around the cemeteries and repairing seaside roads and completed a general cleanup of the area.
Mr. Russell confirmed that some 50 homes are being constructed in the first stage, and that there are some 230 lots available as well as land for shopping areas, day care centres, parks and more.
Mr. Russell also pointed out that the new subdivision is conveniently located next to the Hawksbill Clinic and is situated on high land.
He told residents that while some priority would be given to their applications, they must meet the qualifying standards set by The Bahamas Mortgage Corporation.
The Minister also brought with him senior officials from the Ministry of Housing and The Bahamas Mortgage Corporation to explain to residents the necessary requirements for a government house.
Mr. Russell stressed that while resident of the area will be given some priority as promised, his Ministry will not allow the houses to sit there and wait for persons to qualify.
He said it is the Ministry's intention to put people in homes as well as build new ones but that could not happen with unoccupied homes and no returns on investments.
Mr. Russell encouraged residents in the area to come forward as the homes will be ready for occupancy in weeks.
The naming of the Sub Division in honour of Sister Mary Patricia Russell is widely seen as an appropriate gesture within and outside the community.
Sister Mary Patricia Russell has often been described as a strong pioneering woman, a caring and dedicated nun and educator, as well as an energetic, supportive and loving person, a woman for all season.
Born at Lewis Yard, Grand Bahama on January 1, 1938, she passed away on August 31, 1994. She was the fifth child of the late Samuel and Ester (nee Smith) Russell, and at birth was given the name Eloise Elizabeth.
Eloise Elizabeth decided to devote her entire life to God by entering St. Martin's Convent of the Benedictine Order on the 8th September 1953.
As a nun, she became an educator and taught at Our Lady's School and Holy Redeemer School in Cat Island. Also, it was in the Convent where Eloise Elizabeth, now Sister Mary Patricia Russell began her 40-year legacy of community love, support and development.
During her formative years as a nun, Sister Mary Patricia furthered her education at the Mother House of the Benedictine Sisters in Minnesota and at the College of St. Benedict where she obtained a Bachelors of Arts degree.
Sister Mary Patricia advanced her education by obtaining a Masters Degree from Duquesne University in 1980.
Upon her return from Minnesota in 1967, Sister Mary Patricia was elected to the post of Regional Superior of St. Martin Convent in Nassau.
Sister Patricia also had a passion for music, particularly the guitar and her responsibilities did not keep her from leading a vibrant ministry of music throughout the churches she came in contact.
Her concern for the youth was foremost in her ministry as she had the foresight to establish a hostel for young ladies, which enabled them to attend secondary school in New Providence thereby improving the young ladies of the Family Islands.
Upon ending her term as Regional Superior, Sister Mary Patricia returned to her native Grand Bahama in 1974 to be the principal of St. Vincent De Paul Catholic School.
An energetic individual, St. Vincent De Paul grew and flourished under her capable hands in academic excellence and sporting activities. The school population peaked at 550 students during her tenure as principal and the campus was expanded.
Her civic duties were no less ignored. Her involvement with the Ministry of Youth, Sports and Community affairs from its inception exemplified her continuing keen regard and interest in young people. She held membership with the YMCA and was a charter member of the Zonta Club on Grand Bahama.
After 12 years of service to the Grand Bahamian Community and especially the Hunters and Lewis Yard community, Sister Patricia again resumed the position of Regional Superior of the Benedictine Sisters and returned to Nassau in 1986.
Her Ministry in Nassau extended to include Marriage Encounter, Samaritan Ministry, Bahamas Adult Education Association, Sporting and Athletic Associations, and organisations concerned with youth development.
In 1990, under her direct supervision as administrator of the College of St. Benedict college programme, it expanded its classes and further extended the college to Grand Bahama. She remained active in that capacity until her sudden illness in 1994.