Murder count surpasses 100 as violence continues to violate the innocent and weak in society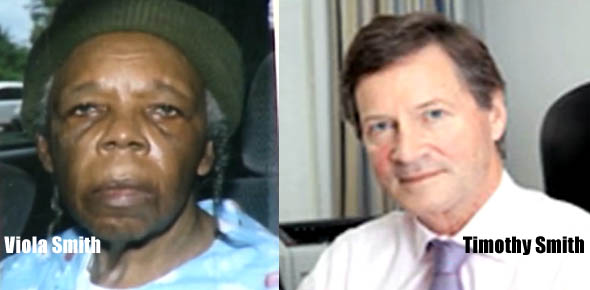 NASSAU, BAH — Timothy Fraser Smith, CEO of Deltec Bank is the victim in that tragedy in Lyford Cay on Thursday night as he prepared for Hurricane Sandy.
According to NEMA officials the incident reportedly occurred around 9:30 pm as the killer Hurricane moved across the Bahamas.
Preliminary reports indicate that the deceased reportedly went outside to fix a shutter on his balcony when he fell to his death. A family member later discovered him.
Mr. Smith was 66-years-old. He became one of 42 other deaths across the Caribbean in the wake of the killer storm as it churned across the Caribbean.
Hurricane Sandy is now headed towards the North Eastern coast of the United States.
Meanwhile, police are requesting the public's assistance in locating the person (s) who shot and killed a 76-year-old female at Eneas Street off Meadow Street on Thursday evening.
BP was the first to report the attack on the elderly grandmother, who was sleeping at the time when gunshots were fired into her bedroom, killing her instantly. The victim had recently been discharged from hospital.
The woman, we can report, was a newspaper vendor, who for years sold copies of the Nassau Guardian, Tribune, Journal and Punch religiously. Her usual spot was just outside the main gates of the College of the Bahamas on Poinciana Drive.
Friends and Family identified the victim as Ms. Viola Smith.
Preliminary reports indicate that around 8:30 pm the female was at her residence along with family members, when noises, which sounded like firecrackers, were heard in the area of Ms Smith's bedroom.
Upon checking the room, it was discovered that the already ailing senior citizen was fatally shot and the gunman who sources say was chasing a young man, had fled the crime scene.
The string of crime and violence has brought the country to its knees and is killing our image around the world. Why in the hell we keep letting these damn Rwandan style gangsters kill the young and the old? Why we are letting them repeat these acts of terror across this society is beyond us?!
We need CHANGE!
We report yinner decide!