A BP SUNDAY SPECIAL >>> Algernon Cargill is the highest paid public official in all the Bahamas according to records….Bahamas Press is calling for a forensic audit of NIB FUND!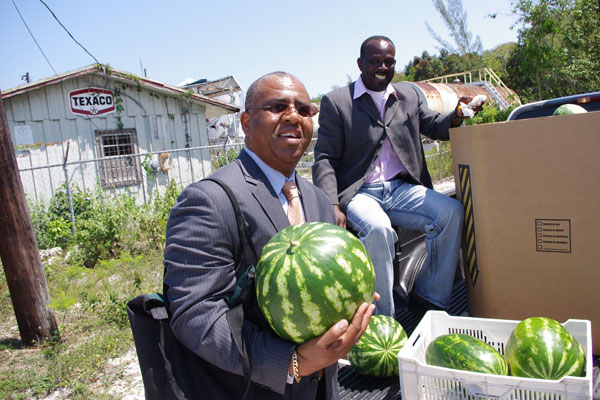 Nassau, Bahamas – We could not help but turn our attention to the National Insurance Board once again and spotlight the injustice that continues to occur at the nation's social security agency.
What we have found could be criminal and a continued silence from the Christie Administration on the developments could leave many questions.
Bahamas Press has combed through document after document down at NIB, and one must ask the question: why are some persons still in place running the Board.
Alleged incidents involving the squandering of funds at NIB are not new on Bahamas Press. We highlighted these incidents in reports before since the last administration, but a closer inspection into the Board's activities today reveals a 'hoggish' state of affairs.
We reported before and many would remember claims of alleged abuses at the Board, noting how a purchase order of electrical supplies was requested at a hefty price tag.
We reported before how Kenuth's Electric, a company whose proprietor is a dear friend of Mr. Cargill, submitted to the Board a bill that was four hundred percent of the actual price of the item being purchased. What was done after this revelation? Nothing!
We reported back in June and confirmed how this same company [Kenuth's Electric] – connected to the Managing Director by friendship – was awarded loaded contracts from NIB projects for the period 2007-2012 as follows:
1. Sandilands Project – by Telco Enterprises Ltd – $2.217 million.
2. Abaco Government Complex – by Woslee Construction – $2.248 million.
3. Abaco Community Health Center – by Coastline Construction – $1.675 million
4. Exuma Community Health Center – by Reef Construction Co  – $1.056 million (excludes generator, fire alarm system and contractor is purchasing some supplies).
5. J.L. Center Project – by Coastline Construction Co. Ltd – $1.108 million ($158,489 advanced under this contract prior to contractor deciding to give up the contract).
And we repeat: the National Insurance Board funded all the works. With an additional set of works paid by NIB to the company, we concluded in short that the books reflected that a total of over NINE MILLION DOLLARS [$9.3 million] was the true amount on contracts for Cargill's buddy. But what was done? NOT A DAMN THING!
Not even an investigation. And talk about the press? They are mute!
And so today our revelations take the Bahamian Joe Public even deeper into our findings. We will let you decide what you think about the current man at the top of NIB.
Bahamas Press has uncovered that Algernon Cargill to date is the highest paid official in all the government of the Bahamas. He is paid more than Prime Minister Perry Christie and the Governor General of the Bahamas Sir Arthur Foulkes COMBINED!
Unbelievable! And many should be asking the question: What warrants this?
So here we go.
Documents shown to BP reveals Cargill was paid a hefty ONE HUNDRED AND SEVENTY THOUSAND DOLLARS [170,000] last year. And that was just his salary.
We have also uncovered that before April 30th this year, two credit cards attached to the head of the Board [Cargill], both in the amounts of $25,000, were all "maxed-out" before the change in government on May 7th, 2012. That's another $50,000 spent by the director for fine wining and dining, fun and frolicking. UNTHINKABLE! And there is more…
The sitting director took on the dubious task of being the sole board representative for NIB wherever the Board's investments sit in private companies – Ministers agreed to a decision we believe in the last administration. This, therefore, accounted on record to an additional $70,000, with some boards paying as high as $20,000 for service thereon. These board noted on paper included: The Arawak Port Development, Commonwealth Brewery, Bank of the Bahamas and Cable Bahamas – all of which NIB holds a portfolio with.
And there is more that Cargill received.
An account established for executive bonuses at NIB has vanished and it appears that no bonuses have been issued over the past year.
Every year for years money paid to this account was redistributed to executives at the Board and for years the money was an award for those hard workers having contributed to the growth of the Fund. Well, according to sources deep in the Board, only Cargill knows what has happened to that special account. Well, we wonder if anyone will inquire as to what happened to it.
BP will leave that story for another day. Perhaps the Tribune for once will dig into a real story and share its findings with the public.
When sensible people examine these revelations they would discover there was collectively over $290,000 last year – almost three times that of the Prime Minister of the Commonwealth of the Bahamas – in salaries, perks and bonuses paid to the fiji water drinking Executive Director of NIB.
To witness how Bahamians sit by, watching the waste, squander, backside rape and pillage of its Boards and Corporations by the few is indeed shocking to us. And by extension the way in which our government sits idly by and watches the massacre committed to its citizens is beyond us!
But if you think this is the story wait for part two at 3PM this Sunday only on Bahamas Press.
We report yinner decide!