Nicole Martin failed to register any agreement for the Wyndham workers – workers must fire her and her team – THEY ARE UNFIT TO REPRESENT WORKERS!!!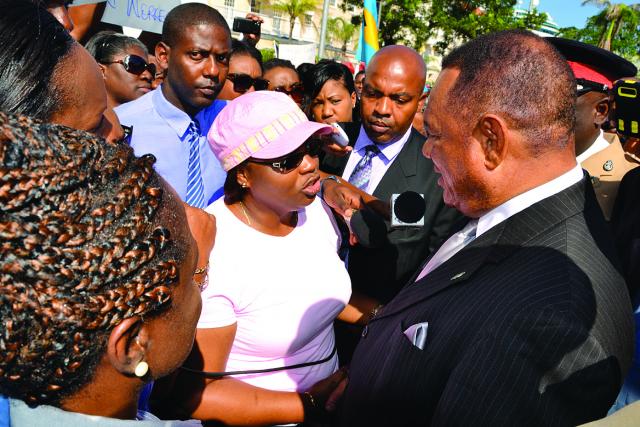 Nassau, Bahamas — To the detriment of workers in the country, Bahamians are finding out everyday they made a bad move when they elected some women to head unions in the country.
And if you don't believe us, go ask the workers at Atlantis who last year watched in horror as their colleagues were axed one by one without a whisper emanating from the lips Hotel Union President Nicole Martin.
If you don't believe us, just go ask the workers at Club Land'Or, who have not been paid for three weeks, yet they cannot hear a word from their union that represents them on labour issues.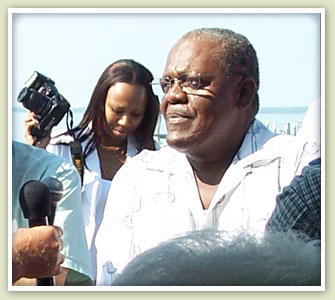 And if that is not enough, just look at the workers now facing unemployment at the Wyndham Hotel in Cable Beach. They also pay a union week after week, yet shoddy, wutless and JACKASS leadership heading the Hotel Union in the country could not see that the agreement signed by Hubert Ingraham for Baha Mah and shared with the Bahamas Hotel Union called for the downsizing of workers at that property.
Nicole Martin was mute after the deal was inked, knowing that Ingraham had rewarded her handsomely on the Board of NIB. She said absolutely nothing when she came into office to protect the people who pay her salaries.
Many would remember when Baha Mar was renegotiated with the Ingraham Administration, the Chinese were brought on board after other partners in the deal saw no confidence in doing business with Hubert Ingraham.
During that Chinese invasion, Ingraham allowed more than 8,500 Chinese workers to become employed, stimulating the economies of China, while his failed roadwork plans – which went into overruns to the tune of $100 million – stimulated the economy of Argentina! Ingraham was just bad for the Bahamas – period.
The deal signed by Ingraham and approved by Hotel Union at the time knew it would hurt Bahamians. And now, Hotel Union President Nicole Martin wants Prime Minister Perry Christie to fix her problem.
If Mr. Christie had been returned as Prime Minister in 2007 the security of Bahamian workers would have been clear. In fact, when the deal was first arranged before 2007 – NO BAHAMIAN WORKERS WERE TO BE LAID OFF! That was a point driven home by Mr. Christie repeatedly at the time.
But the man whose hands turned everything into dust – Hubert Ingraham – decided his government would put Baha Mar on hold for years while he stopped, reviewed and cancelled the Christie inked Baha Mar deal.
Bahamians we say have very short memories!
By the time the major investors, Harrah's, had pulled out and left Baha Mar holding the bag, the country's economic outlook was never the same after 2007. The potential to employ 5,000 Bahamians on the construction site at Baha Mar was lost, Cable Beach was stuck with its same old tired face. And investors – many which turned away after 2007 – went asking the question: What went wrong?

It was unbelievable! That is how we got where we are today with this Baha Mar deal, and Bahamians must be reminded – especially Nicole Martin and people in the hotel sector who are set to send her home packing!
Hubert Ingraham placed Chinese construction workers over Bahamians and he agreed to send home Bahamian hotel workers in his newly drawn contract.
Problem now is this: Nicole Martin – who also failed to register the employment agreement with Wyndham – wants to get reelected, and as the property owners look on her weak, compromised, sorry leadership, she decided to run to Mr. Christie for help.
Too late nah!
She should have done that when Hubert Ingraham placed her on NIB Board to keep her mouth hushed and pinned while she and Ingraham threw hotel workers under the bus.
And if Mr. Christie must fix the problem now, then workers in the hotel sector must turn to new leadership in its Union and engage people who will look out for their best interests!
It is clear Baha Mar executives have no respect for the leadership within the Bahamas Hotel Union, and therefore the people paying their dues should know – If Nicole Martin could do that to you – why in the hell would you give her and her "F"-team another term.
They have FAILED YOU!
Bahamas Press asks all members of the Bahamas Hotel, Catering and Allied Workers Union to do to Nicole Martin just what the people of the Bahamas did to Hubert Ingraham and the FNM – SEND DEM HOME!
Failed leadership has no place in the seats of power! SEND THEM HOME!

We report yinner decide!