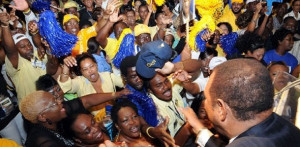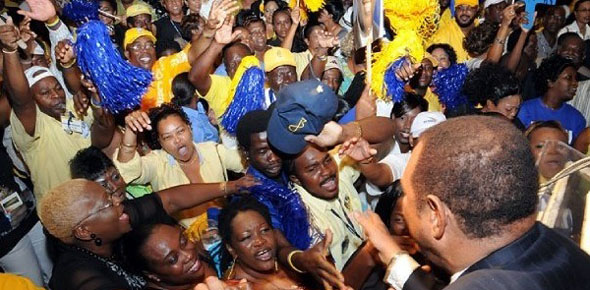 Press Statement By
The Progressive Liberal Party
July 7th 2011
We call upon John Delaney to give the statistics for murder convictions and mistrials for all matters before the Supreme Court since August, 2010.
The result: record number of murders, increased crime across the board, every Bahamian family and community affected. The number of mistrials and improperly prepared cases appears to be increasing.
When Mr. Delaney gets these big facts wrong, is he lying or simply incompetent?  Bahamians can decide for themselves.  But one thing's for sure — the facts do not support him. Why does all this matter?
And because Mr. Delaney's sloppiness reflects a key truth about this government: they care more about politics than they do about fighting crime. Swift Justice was a PLP program that brought together the Attorney General's office, the police, social services, and others together on a regular basis to ensure a swifter path to trial, and to ensure that witnesses and investigating detectives and others providing evidence would be present at trial.  Swift Justice was effective — but it was a PLP program, so the FNM has neglected to fully implement it, because they care more about who gets the credit than they do about justice in the Bahamas.
The failure to fully implement Swift Justice is part of a larger pattern — this FNM government has also gutted Urban Renewal and School Policing, two other PLP initiatives that were starting to make a real difference.
Not "completely accurate" — that is how Attorney General John Delaney, speaking for the FNM government, has characterized his own comments in the Senate about conviction rates for murder. (Nassau Guardian , July 6, 2011)
The Attorney General was forced to backtrack on statements made during his budget contribution after the Nassau Guardian revealed that his numbers did not add up. But it turns out that Mr. Delaney didn't just get the numbers wrong — his entire story is wrong.  Mr. Delaney portrayed the convictions as a result of new initiatives under Vinette Graham Allen.  Mrs. Graham-Allen, the controversial non-Bahamian DPP, only began work in the summer of 2010 — while the convictions to which Attorney General Delaney referred were achieved between early 2000 and July 2010, a period during which the Directors of Public Prosecutions were Mr. Bernard Turner and Mrs. Cheryl Grant Bethell, both Bahamians.
FNM MISTAKES ON MURDER CONVICTIONS REFLECT LARGER FAILURE TO FIGHT CRIME.