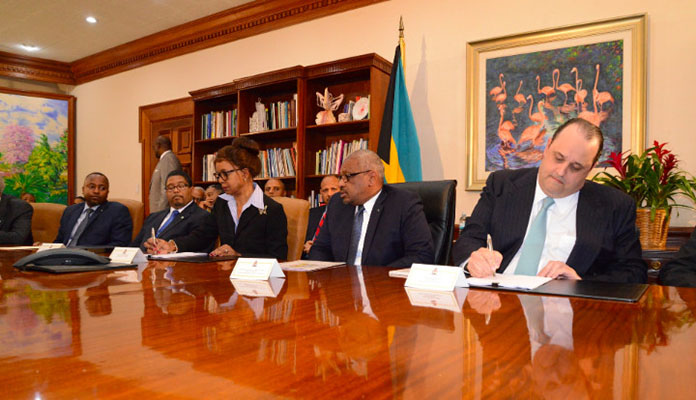 By Don Malone-Petroleum Engineer
Having Worked At CHEVRON Owned BORCO Refinery From 1970 To 1988, Shares His 'Professional' Opinion On The Current Oban Energies Dilemma. Original Post By Don Malone A Former Environmental Protection Engineer At BORCO. It Is Very Informative And Is Worth Reading:
"Monty, while I agree with some of the points in Bahamian Jedi's comments above, yours are spot on. From what I can see the location appears to be near a settlement possibly Pelican Point. As I noted in another earlier post, it appears to me that the principals on both sides of this proposed project know little about the oil industry. Hence the embarrassing manner in which it has been handled.
Having worked at CHEVRON owned BORCO Refinery from 1970 to1988 when the Refinery was shut down, I can say there is cause for suspicion of this proposal; less so on the Government's side (lack of knowledge of the industry), but more so on the other side. I would like to give the Minnis Administration the benefit of the doubt in that they were eager to generate employment for those suffering on GBI.
However, the Project's Principal Proposers are a different matter. Their characters raise concern, what they said and fail to say raises concern and equally important, their lack of industry knowledge and experience is minimal. This is not the usual way in which a refinery is conceived and brought to fruition.
Usually, one of the major oil companies is involved: they have the knowledge, experience, personnel, resources and know-how to build a refinery. They know beforehand the markets and outlets for their products. If you are not in with the big boys, you are out. They are ferocious in protecting their club.
Also, the fact there has been no EIS is wrong especially in this era. In1970 just after getting out of school, I went to work for BORCO as Environmental Protection Engineer 5 days after the first drop of oil was brought into the Refinery. When I learned there was no EIS, I persuaded the Management to do one. To his credit, President Art Gardner agreed and appointed myself as coordinator for the project.
My first thought was to include Government for their input and we both agreed that the University of Miami would be a good choice since they were already known to Government and did research in Bahamian waters. I visited the U of M School of Marine Sciences and negotiated a marine and oceanographic survey which took over a year to include seasonal variations.
The contract also included follow-up visit by the U of M 3yr later to check conditions. From my recall of this survey alone, I can say that the location of the proposed Oban Refinery is poor. The prevailing meteorological and oceanographic conditions are not favourable and it certainly places Freeport in its crosshairs.
Too, I noted in some of the Oban literature that it proposes to refine sour crudes if so, this is formidable and requires close scrutiny because this will generate a waste odour of Hydrogen Sulfide and Mercaptons which can be lethal and smells like rotten eggs.
I could go on. The government needs to avail themselves of much more knowledge of this proposal before approval. For what it is worth."