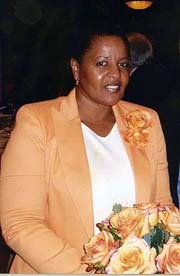 FOR IMMEDIATE RELEASE
At no time while attending a Press Conference at The British Colonial Hilton yesterday did I, Phillippa "Lady" Russell introduce myself as a representative of Bahamas Information Services.
While I have been publicly called a fraud on the ZNS TV-13 evening news of Thursday, December 09, 2010 via the reading of a Press Statement from Bahamas Information Services, I always thought that being a fraud really is NOT when someone mistakes my identity.  I thought a fraud is when someone misleads the Bahamian people, as I saw the two females who are responsible for this controversy have perpetrated for decades.
A Fraud is when you masquerade as a Bahamian Public Relations Executive, while concealing your true ethnicity.  A MAJOR FRAUD IS WHEN A KNOWN "WUTLESS" SWEETHEART OF A MAJOR BAHAMIAN DECISION-MAKER IN THE BTC/CABLE & WIRELESS SCANDAL AND WHO IS ALLEGEDLY  SET TO RECEIVE A 3% OR $7 MILLION DOLLARS FINDERS-FEE IN THIS SCANDALOUS AND SORDID BTC/CABLE & WIRELESS ENTERPRISE,  PRETENDS TO BE AN HONEST CITIZEN.
NOW THAT'S THE UNIVERSAL DEFINITION OF FRAUD!