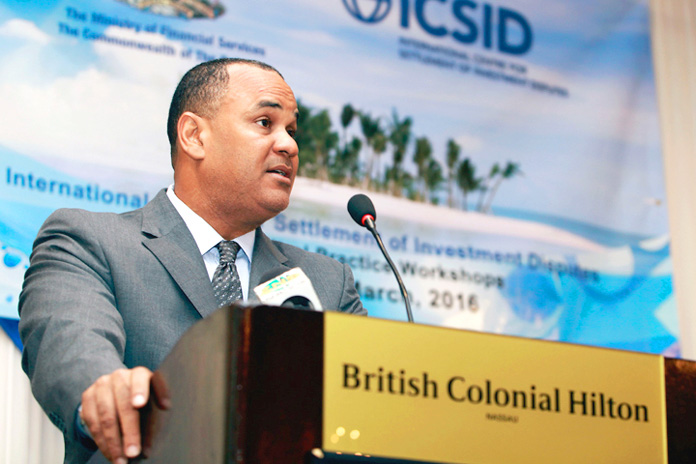 By Bradley Roberts
The Progressive Liberal Party notes with great pride that the Bahamas State Minister for Finance was nominated and elected as the incoming Chairman of the Board of Governors of the Inter-American Development Bank during the 2016 Annual General Meetings of the Inter-American Development Bank (IDB) and the Inter-American Investment Corporation (IIC) held here in Nassau over this weekend.
This is a signature accomplishment for The Bahamas and its proud people as our leaders use the institution of public service to continue to project and propel this tiny island nation onto the international stage.
Michael is one of a number of new generation leaders who have chosen a life of public service and have excelled to the benefit of not only The Bahamas but the international community. I note that the Minister of Education, Science and Technology, the Hon. Jerome Fitzgerald was elected the Chairman of the Conference of Commonwealth Education Ministers and Environment and Housing Minister the Hon. Kenred Dorsett was elected the Chairman of the Council of the International Renewable Energy and co-chair of the Caribbean Challenge Initiative Council.
The Progressive Liberal Party thanks these leaders for their stellar service and fully supports their elections. The country will be handed to leaders like Halkitis, Fitzgerald and Dorsett to continue the important work of national development therefore these assignments are significant developmental steps in this process.
Regarding the published priority areas of the Inter-American Development Bank, I note that the Bank updated its Institutional Strategy for 2010-2020 in March of 2015. Its principal objective is the ultimate transformation of both Latin America and the Caribbean 'into a more inclusive and prosperous society' and in doing so, member states must address three main development challenges: "social exclusion and inequality, low productivity and innovation, and limited economic integration" so Minister Halkitis, your work is clearly cut out for you.
The IDB has acknowledged in its strategic plan the inter-relationship of these objectives with over-arching issues that member states must use informed public policy to urgently address: specifically the issues of "gender equality and diversity; climate change and environmental sustainability; and institutions and the rule of law."
Incidentally, The Bahamas is preparing itself to go to its people in a referendum this summer on gender equality so in a sense, Minister Halkitis' work has already begun.
The Progressive Liberal Party and Bahamians everywhere have every confidence in the leadership of Mr. Halkitis to aggressively and competently address these regional and I dare say global issues.
We join the wider Bahamian family in congratulating and supporting our State Minister for Finance Michael Halkitis on his new assignment.