BREAKING UPDATE >>> Officer now in Doctor's Hospital

–
ROACH ON DA SENIOR MAN BREAD!!!! WHAT IN DA HELL IS DIS?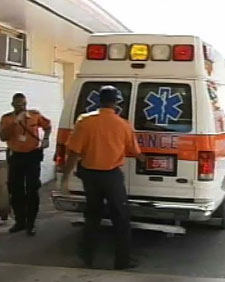 Young officer was said to have been 'sweetheartin' his fellow officer's wife and had just gotten dropped off after an 'Oil Change Session'!
Nassau, Bahamas — A major investigation could be open in the Royal Bahamas Police Force tonight after what some are now describing as an attempted murder incident on the life of a police constable just hours ago.
The young officer we can report is recuperating in Doctors Hospital tonight with two swollen eyes, broken hands, a fractured nose and bruises to the head after eyewitnesses rescued the police officer from a gang of men. He was off duty.
Now get this; early this afternoon the officer was cruising and then dropped off at the Blue Hills Baseball Field. Driving that transport vehicle was the wife of a senior inspector.
Sources deep into the know tell us; it was long suspected that the young sex 'toy boy' officer was indeed 'juicin' an inspector's young wife.
According to reports, while coming from another 'oil change session' with the inspector's wife; as he was being dropped off at the baseball field – out of nowhere- a small group of thugs accosted the young constable and rained blow after blow on the 'toy boy officer'.
We are told the young sweetie and wife of the inspector had just left the scene of the crime.
No back up was called, as the young officer lay bloody on the ground.
BP can confirm the victim is now in Doctors Hospital where BP is now reading his report.
All we say is dis; these days an 'oil change session' could cause ya death!
And as they say; police are investigation, or maybe, this one might get swept under the rug.
We report yinner decide!