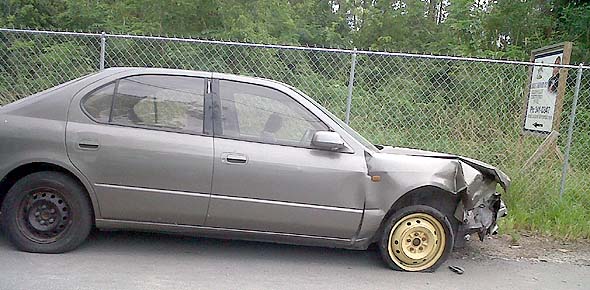 Nassau, Bahamas — For days now this car has been parked on the corner of Carmichael Road and onto the street, which leads to the Detention Centre.
The vehicle appears to have had its right fender damaged at the front. No one has claimed ownership to the vehicle, and now as we write, the car is still parked in the road. With all these vehicles being stolen and others in armed robberies, by now you would think someone would find the nerve to impound this vehicle.
Rather, nothing is done, and soon it will be stripped as it sits on the side of the road.
This week, Police Commissioner had to fire an officer believed to be in a car theft ring here in the capital. Officers descended on a home in New Providence and arrested two sisters. One of the women was a police officer.
Sources tell us the women had licensed both cars in their names. Both vehicles were stolen right here in the capital. Upon a search of the pair home, police found the decals in a dresser of the officer bearing the registration disc of the previous car owner.
The cars were confiscated, and the women arraigned before the courts.
A police officer is caught in possession of a stolen car, was recently arraigned on bribery charges. Nassau gone funky!