High speed chase on Shirley Street almost ends deadly…
Nassau, Bahamas — A high-speed chase east along Shirley Street last night between police and two known criminals has landed the suspects in hospital.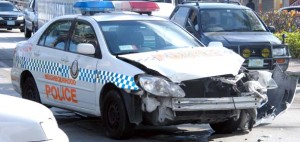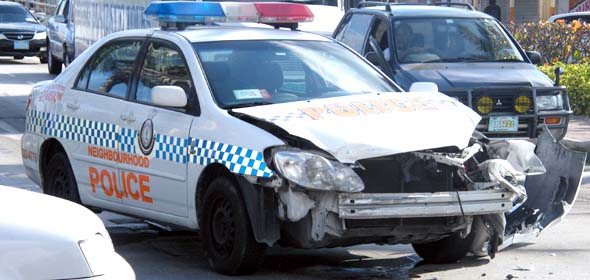 Bahamas Press was the only news team live on the scene last night and what transpired tells you Nassau crime woes have not diminished.
The two occupants began their high-speed gun shooting drama in a white "Honda" that was travelling east "the wrong way" on Shirley Street around 2am this morning.
However an "Enforcement Unit" that patrolled the area and saw two men acting suspiciously in the area and started chasing the car.
The car was later tracked into the Step Street area of Fox Hill in the area of PLP headquarters with the engine "hot" and running. The occupants fled into the bushes and once again opened fire on police officers.
We can tell you BP and police were fully strapped in gear and bulletproof vests and immediately returned fire on the suspects.
Suspect number one hit in the hail of gunfire was 40-year-old Richard Fowler of Chapel Street off Bernard Road. He, you might remember, was the man who was captured by defense force officers in a Haitian sloop with Dingy Pratt [now dead] some years back.

Both he and Pratt were wanted by police for murder in the Fox Hill area. We are told Fowler was released on bail for murder and now this.
The second suspect shot last night in the ordeal is 36-year-old, Anesto Armbrister of Foxdale Sub-division. He sustained multiple gunshots to the upper body, multiple gunshot injuries to the chest, arm and back areas.
A heavy police battalion escorted both men to the PMH. They are known to police and were connected to numerous serious matters ranging from Murder, Possession of Firearm & Ammunition, both javing a rap sheets from their teen years.
We warn law breakers to avoid near deadly experiences. Stop whenever ordered by police!
Breaking Update: BP now has the names of the victim and suspect held by police. The victim is female known to the suspect as Kitley St. Breave. She was a resident at Quarry Mission Road.
Additionally we can report, the suspect in police custody is Haitian national Gibson Rafael of Charles Vincent #31B on Charles Vincent St. north of Cordeaux Ave. We report yinner decide!
We report yinner decide!