Two Jamaicans and one American tests positive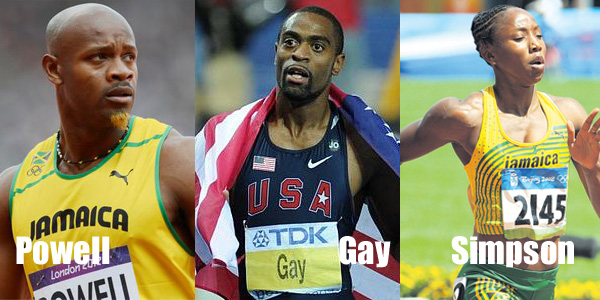 Two More Jamaicans to be named…What in the hell is this?

Kingston, Jamaica — Former 100-meter world-record holder Asafa Powell and Jamaican teammate Sherone Simpson have each tested positive for banned stimulants, their agent told The Associated Press.
Powell and Simpson tested positive for the stimulant oxilofrine at the Jamaican championships last month and were just recently notified, Paul Doyle said Sunday, with their provisional ban effective immediately. The news came the same day that American 100-meter record holder Tyson Gay revealed that he also failed a doping test.
Powell helped the Jamaicans to the 400-meter relay gold medal at the 2008 Olympics and was the last man to hold the individual 100 record before countryman Usain Bolt broke it earlier that year.
Simpson won Olympic gold in the women's 400 relay in 2004 and silver in 2012, along with an individual silver in the 100 in 2008.
"They're devastated," Doyle said in a phone interview. "I'm optimistic that Asafa's and Sherone's names will be cleared. It is a stimulant ban, which I hate to call any infraction minor — any positive test is major, in my opinion — but at the same time it was something that was inadvertent. Hopefully, through our investigation and all that, we'll be able to show it was unintentional."
These doping positives come a month after another Jamaican Olympic champion, Veronica Campbell-Brown, tested positive for a banned diuretic.
Doyle said it's too early to say whether Powell or Simpson will be able to compete at the world championships in Moscow next month. Powell did not finish in the top three at last month's nationals to qualify for worlds, but possibly could participate as a member of the 400 relay. Simpson earned a spot by finishing second behind Kerron Stewart in the women's 100.
"We'll see if things can get cleared up before worlds," Doyle said.
In a statement released through his agent, Powell said his team has "launched an investigation" to find out "how the substance got in my system."
"I assure you that we will find out how this substance passed our rigorous internal checks and balances and design systems to make sure it never happens again," said Powell, who's sprinted down the lane in under 10 seconds more times than anyone in history. "My attitude towards doping regulations and testing is well-known and I willingly give samples whenever requested. This result has left me completely devastated in many respects."
Simpson also released a statement, saying: "This is a very difficult time for me. … My team and I will try to do everything we can to get this issue dealt with as best as we can."