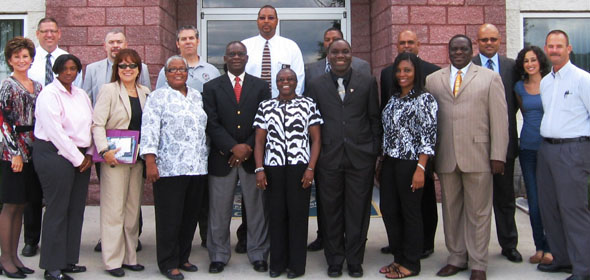 On July 11-15, 2011, representatives from the U.S. State Department joined efforts with senior prison officials from The Bahamas, Jamaica, and Trinidad & Tobago for a visit to the Federal Correctional Complex (FCC) in Coleman, Florida.   The participants from Her Majesty's Prison in Nassau included Superintendent Dr. Elliston Rahming, Assistant Superintendent Stevenson Smith and Anita Dillet, Director of Inmate Education and Staff Training and Development. The purpose of the visit was to provide visiting corrections officials with an opportunity to observe operations at a major Federal Bureau of Prison's complex, participate in presentations concerning prison programs, services, and activities, and to establish relationships that will serve as the basis for possible corrections programming collaborations in the Caribbean Region.
The extensive schedule consisted of classroom presentations, tours, and question and answer sessions with the corrections managers and line staff.  Through intense discussions participants were able to gain knowledge from each other in the areas of inmate classification, psychological/substance abuse, educational programs, re-entry/pre-release programs, and community relations.
The prison officials also participated in tours of several penitentiaries and a round table discussion with FCC Coleman Department Heads. Several key points based on observations and discussion during the court of the study tour included: participants expressing that corruption and staff accountability were issues that needed to be addressed in their systems, recruitment, training, and retention of corrections staff, and detection and interdiction of contraband.