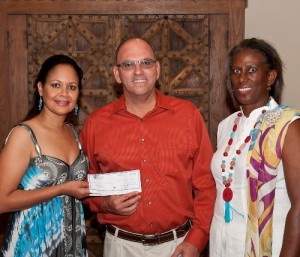 Nassau, Bahamas – RBC recently presented a donation to the Nassau Chapter of The Links, Incorporated, a non-profit organization, to assist with its mentoring programme for young girls at the Elizabeth Estates Home.The programme focuses on providing continuouslife skills with educational and psychological support for the group of teenage girls, to enable them to properly transition into the next phase of their life. These girls, as well as others residing at children's homes throughout The Bahamas, are required to leave these institutions of child care by age 18.
"There is an urgent need for counseling as a result of abuse and abandonment, and now many of these young girls must prepare to enter and function independently in society as they turn 18 years old," said Mrs. Caryl Lashley, Charter President of the Nassau Chapter of The Links and Elizabeth Estates Children's Home Board Member. "The girls need a lot of support, so in addition to providing physical support and psychological counseling, we also provide mentors for them."
According to Mrs. Lashley, Links members serve as mentors to ensure the girls are properly nurtured and receive educational and spiritual support as they build the necessary life skills to successfully transition into society.
"At RBC, one of our top community-giving priorities is to support programmes that improve the lives of youth in our communities," said Monique Crawford, Business Banking Manager for RBC Royal Bank, and a Links member. "As a volunteer and mentor with the programme, I see the potential in these girls. We hope this donation will help provide the girls with the support they deserve."
Globally and in The Bahamas, RBC has selected children's mental health as one of its top areas of community focus. Since 2008, the RBC Children's Mental Health Project has provided $9.5 million to organizations around the world dedicated to helping kids be healthy inside and out. The specific focus of the support is on early intervention and education to reduce stigma.
"RBC's donation, for which The Nassau Chapter of The Links, Incorporated is most grateful, will assist with the mental health component of the mentoring programme, to ensure its continued success," said Mrs. Lashley. "The programme is proving beneficial to the girls as, one by one and slowly, they continue to show improvement in various ways."