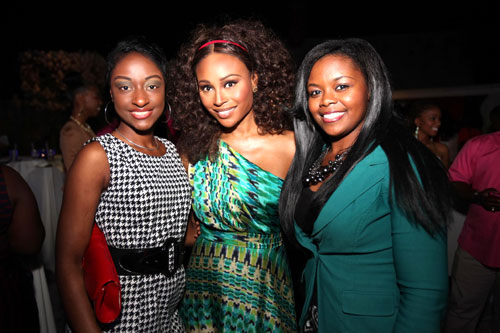 Nassau, Bahamas – The newest recruits to the BTC Divas and Dudes promotional team were officially inducted last night at a Welcome Reception at Nassau's Luciano's restaurant. The mix'n mingle event included a motivational talk by international Super Model and 'Real Housewife of Atlanta' star, Cynthia Bailey. The General Manager of the Sheraton Resort, Edward Baten was also on hand with words of encouragement and career tips for BTC's newest team members.
The Divas & Dudes programme was developed three years ago to provide support at BTC's many sales and marketing events. To be selected as a Diva or Dude, applicants must first undergo an intensive screening and interview process followed by a mini etiquette course. Carole Barnett, manager of BTC's events and promotions who spearheads the initiatives, said she looks for young men and women with appropriate social graces and behaviour skills to represent the company.
"Our new 'Diva's and Dude's are attractive, personable and well-mannered and already professionally employed. They help us at our weekend and evening events, adding a touch of glamour and sophistication."
Seen in the photo (center) Cynthia Bailey (born February 19, 1968) is an American fashion model and actress, she won several beauty pageants and was the first African American homecoming queen of her high school. She moved to New York City when she was 18 years old to pursue a modeling career.
Bailey resides in Atlanta, Georgia with her teenaged daughter, Noelle, from a previous relationship with actor Leon Robinson, and her husband, Peter Thomas. During Season 3, Bailey's relationship with then boyfriend, Peter Thomas, a restaurateur and entrepreneur, unfolds.[68] On the Season 3 finale, Cynthia married Peter at the Fernbank Museum of Natural History in Atlanta.
Season 4 highlights Bailey's preparation for and opening of The Bailey Agency, which trains people interested in working in various aspects of the modeling and pageant industries. The couple's parallel efforts to recover from Peter's previous failed venture, which Bailey had invested in, and Peter's opening of a new club are depicted. (Wikipedia)