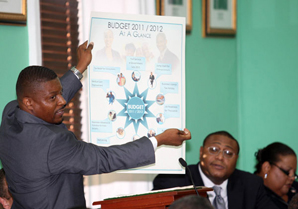 This is how the Parliament looked last week as Rev. Lying Laing wrapped up his contribution in the House. He had one convert, Kenyatta Gibson, who was participating in his last budget contribution in the House as an MP.
Gibson you will remember left the PLP and ran to the FNM all to now find himself without any seat in the upcoming elections. He could be seen holding Rev. Laing's charts in the Parliament like a water boy begging for mercy.
BP once became excited when it was time to listen to Gibson's fiery delivery as s speaker for the PLP. Whenever he spoke, he boomed like a clapping thunder for the People.
Today he has been spayed and neutered like a BIG DAMN PUSSY CAT! Hushed like a church mouse dressed in altar garments. His days of thunder are gone and are replaced with quiet, hushed flatulent oratory. How sad, look what Papa has done to him. Not a pin can be heard from the soon to be former MP for Kennedy.
BP has learnt is it possible, Craig Butler, could clinch the FNM nomination for Kennedy. And das what ya get when ya run from da people.