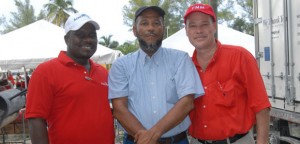 By Rodney Moncur
THE DEMOCRATIC NATIONAL ALLIANCE HAS SELECTED SOME OF THE MOST EDUCATED AND VISIONARY MEMBERS OF OUR PARTY TO SERVE IN OUR PARTY'S CABINET AS SPOKES PERSONS ON THE VARIOUS GOVERNMENT MINISTRIES AND POLICIES.
I BELIEVE THAT THESE PATRIOTIC BAHAMIANS ARE AMONG THE BEST WITHIN OUR NATION AND PARTY AT THIS TIME IN OUR HISTORY, TO WATCH THE FORCES OF EVIL WITHIN THE PLP GOVERNMENT AND TO DEFEND THE INTEREST OF THE BAHAMIAN PEOPLE. THIS IS INDEED A POWERFUL SHADOW CABINET AND IT WILL MAKE THE BAHAMAS PROUD.
LET THE RECORD SHOW, BAHAMAS PRESS, THAT RODNEY MONCUR SUPPORTS THE SHADOW CABINET AND THE VARIOUS RESPECTIVE SPOKES PERSONS.
THEY AND THE LEADER OF THE PARTY, THE HONOURABLE BRANVILLE WILLIAM ARTHUR MCCARTNEY, SHALL HAVE MY UNEQUIVOCAL SUPPORT IN THIS GREAT ENDEAVOUR AS THE PARTY MARCHES TO VICTORY.
NO SILLY ATTACKS BY BAHAMA PRESS AND THE PLP WILL MAKE ME JEALOUS AS I AM VERY COMFORTABLE SERVING AS A SHADOW BACKBENCHER OF THE DNA.  I  LOOK FORWARD ONE DAY TO BEING ELEVATED TO THAT NOBLE STATUS IN ONE OF THE PARTY'S SHADOW MINISTRIES.
MEAN WHILE, I AM COMMITTED TO WORKING IN THE COMMUNITY AS A "PEACE MAKER" BY ASSISTING LAW ENFORCEMENT IN REDUCING THE HIGH LEVELS OF MURDERS IN THE SOCIETY. MORE OVER, I AM  EVEN MORE COMMITTED TO ENCOURAGING EVERY CITIZEN, EVERY POLITICAL PARTY TO PICK UP THEIR PLACARDS AND JOIN THE GREAT MARCH TO HANG ALL MURDERERS.
RODNEY MONCUR, THE JUSTICE OF THE PEACE, FOR THE DISTRICT OF NEW PROVIDENCE IS SEEN ON FRIDAY THE 29TH OF JUNE, 2012, ACCOMPANYING POLICE OFFICERS FROM THE BAINS TOWN & GRANTS TOWN URBAN RENEWAL CENTRE ON A WALK ABOUT IN THE COMMUNITY TO GIVE CONDOLENCES TO TWO SINGLE MOTHERS WHO LOST THEIR SIXTEEN YEAR OLD SONS IN TWO SEPARATE MURDERS.