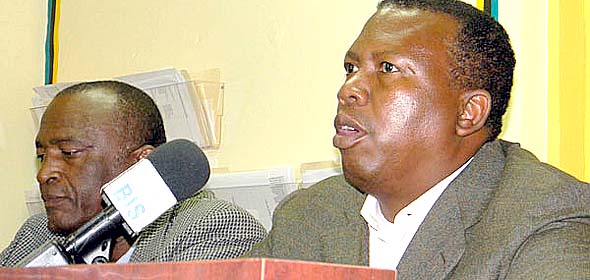 South Andros, The Bahamas – About 100 Southern Androsians welcomed the Government's helping hand to help reduce their light bill. They accepted their share of the 270,000 free government-issued compact Florescent Lamps (CFLs), as part of the Ministry of the Environment's National Energy Policy initiative called "30/30 by 2030". The programme is also supported by Local Government and helps to applying energy efficiency to the daily routine of Bahamians.
"Most of you have seen them by now, these are the CFLs, the Compact Florescent Lamp bulbs. These are the same bulbs we have been using all along these florescent bulbs, same technology, except these ones now you just take them and put them in the regular socket, and any socket will do for these bulbs," said Zendel Forbes, CFL Project Co-ordinator for the Ministry of the Environment.
"The CFLs are an integral part of the National Energy Policy, which is on the BEST Commission's website on BEST.gov.bs. Look it up the policy is on the website and the Government has adopted the theme of '30/30 by 2030', and what that says is that we want to reduce our consumption of energy by 30 percent and we want to have our energy needs being met with 30 percent renewable by the year 2030."
Opposition Member of Parliament for South Andros also commended the Government's plan that addresses the immediate needs of constituent complaints.
"I would like to pass on my accommodation for this great programme under the Inter-Developmental Bank and the Bahamas Government that gives some level of credence to people having a better way of living through a limited way of cheapening the cost of everyday electricity," said Picewell Forbes, Opposition MP for South Andros.
"This is a bold initiative also by the Ministry of the Environment, as we in the world have become more renewable energy-conscious and environmentally friendly, in our effort to educate our local people in this community also to the importance of how to preserve and protect energy and also nature."
Southern Androsians were made aware that solar and wind energy are amongst the top renewable resources that will help to also offset the rising cost of fossil fuel energy. Southern Androsians were led to start thinking globally and act locally by examining how to reduce their dependency on oil products, instead of blaming BEC for the rise in energy costs.
"Second home owners and also those who traverse our beautiful islands, especially here in South Andros, and who are people of wealth and means, I want you to look at the opportunity it could offer sometimes because these are people who are exposed also to wind and solar and renewable energy and how you can use the natural environment for example with wind. Talk with them and challenge them, especially the younger ones," said Mr. Forbes.
"We don't want you to not support BEC. But I think the world is now headed in that direction. We could use some of the same things here in South Andros. We may have to look at wind supply because at the end of the day, BEC although it has all its challenges is still our major source of supply and we can't determine what's going to happen to the cost of fossil fuel, or what we call gasoline price on the world market. Right now gas in Nassau costs $5.70 and it costs almost $6 something in Andros. That's a challenge."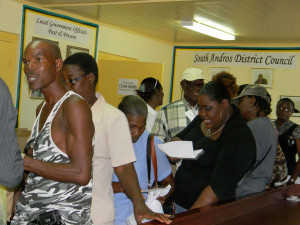 On May 4, Congo Town residents crowded the Local Government complex to exchange their incandescent bulbs for Government-issued Compact Florescent Lightbulbs (CFLs) and participate in the National Energy Policy's energy reduction programme. Distribution simultaneously took place in Bimini, Mayaguana, Acklins, Inagua, Long Cay, Crooked Island, San Salvador, and Cat Island.