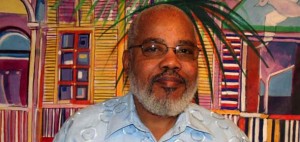 Breaking UPDATE: Bahamas Press is reporting an update on funeral service for the late Jackson Burnside.
We can confirm funeral arrangements for the late cultural icon and promoter of the Bahamian spirit are completed. Jackson will be eulogized this coming Thursday morning at 11AM in St. Agnes Anglican Church.
There will be no public viewing and his body will be cremated before the service.
Statement from the Family;
To all our dear family and friends,
Plans have been finalized for Jackson's Memorial Service which will be held next Thursday, 11am at St Agnes Church.  In honour of Jackson's amazing zest for life we would ask that persons wear at least one item of colour to the service. The family would also like to request that in lieu of flowers donations can be made to Doongalik Studios Limited for the establishment of the 'Jackson Logan Burnside III Design Library and Research Centre'.

We thank everyone again for your continuing support and prayers. We have been so very touched by the constant outpouring of accolades about Jackson, knowing that all of these statements are so true – he was a unique, loving, kind person and a 'true, true Bahamian' in every sense of the word – he loved The Bahamas and its people and worked tirelessly to make sure our Bahamian story was told with pride and dignity.
Although it will be so very hard to know he is no longer with us in body, we are strengthened by the fact that his spirit and his vision have made an indelible impact that will propel his dream for this country and its people to the future. That is his legacy and we hope that all of you, together with others all around the world will assist in keeping 'the stick of fire' burning bright.
With much love and gratitude,
Pam