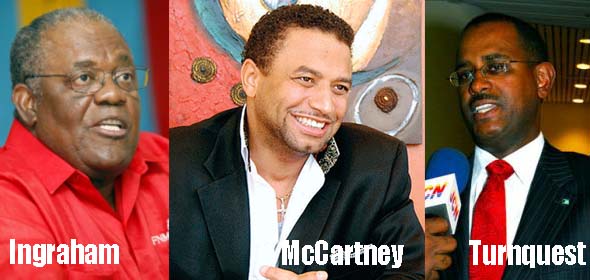 Nassau, Bahamas — Late-breaking news coming into Bahamas Press reveals further truth to a coalition agreement first reported by popular talk show host, Steve McKinney, on Hard Copy.
During the final afternoon drive talk show on Love 97FM before the holidays, McKinney announced his intentions not to seek a DNA nomination for the upcoming General Elections. McKinney noted he has lost confidence in the Green Party and that his confidence in its leader [Branville McCartney] is now been put into question.
Recently, a number of DNA candidates have dropped out of the race and like, Kenneth Russell, were expelled from the party. East End Grand Bahama candidate Philip Thomas and South Beach candidate, Sammie Starr, left the Green Party after being axed by its power-hungry leadership.
In a response expressing disappointment from reports of his termination by the DNA, Sammie Sarr Poitier responded, "I was "Thrown Under the Bus and Rolled Over…Twice", with no regard for how this would affect my credibility, my reputation, and of course my family. I was one of the first named candidates for the party and was 100% loyal to the success of the party and endured an enormous amount of scrutiny for doing so. So as one would expect, this was indeed very disappointing, disheartening and of course NOT TRUE."
After another DNA candidate began challenging McKinney online as he made his pronouncements over national radio, the host responded, "You are not one of the seven selected to be protected in a DNA-FNM Coalition; and if you press me I shall reveal more in due course."
The boiling McKinney challenged anyone in the Party's leadership to dismiss his claims or call into the show and face the music. He noted he had invited Party's leader Branville McCartney to appear on the show to address the matter, however, in an abrupt notice McCartney failed to show.
Bahamas Press can reveal a series of private meetings between operatives of the DNA and FNM were held behind the iron gates of Lyford Cay. The discussion we can also revealed commenced in early November. We can further expose a conclusion has been arranged to secure a safe place inside the new structure for DNA leader Branville McCartney, along with three Family Island candidates and three others in New Providence.
Just last week during the public lynching of current High Rock MP, Kenneth Russell, at a meeting in Grand Bahama, Hubert Ingraham cautioned FNMs not to worry about the DNA. "Everything in the middle will be crushed," he warned. No comment followed from the DNA leader after the PM's statements and when something was mentioned in the public by Branville, he began by attacking Perry Christie...HMMMMM!
Sources close to the DNA tell us, "The party is imploding. Assistance to weak candidates is not forthcoming and those at the top of the Party are not communicating with those at the bottom. It is one ball of confusion, and I am certain, the last thing we need in a country with a high national debt, mass unemployment and an escalation of violent crimes, is a group that is disorganized."
McKinney told his radio audience, he put the question to Branville about this his concerns over a a coalition between the DNA and FNM, where the claim was made that McCartney will become the deputy leader. McKinney said, "His response was not convincing to me as a journalist nor as a friend. He shrugged it of and said ahhhh hahhhh, whatever that meant. I just took it for what that meant. But you know sometimes when a man lays down in the bed at night and your mind wonder…;When something comes at you and nags at your mind you must investigate! I did my investigations, and to be quite plain and simple it aided me in my decision to not fool around at this particular time with the company I had been expecting to and looked forward to being a part of. However, should I be provoked to disclose, oh, I will do so without hesitation."
Bahamas Press in our investigation can also report a group within the DNA have set up makeshift companies to enrich themselves by issuing election contracts to themselves. To persons doing such in the DNA BP shall not disclose at this time, but we will put it like this, if you can be a thief in your own Party, what ya think you will do to the Public Treasury of the Bahamas?
Stay Tuned MORE TO COME!
We report, YINNER DECIDE!!!