Swift Justice Initiative, a Sweeping Success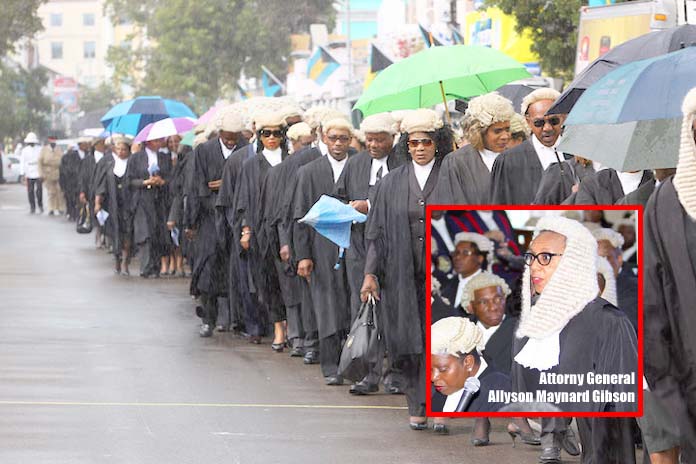 NASSAU, The Bahamas – In her address at the ceremony to mark the opening of the Legal Year, Senator the Hon. Allyson Maynard-Gibson, Attorney General and Minister of Legal Affairs highlighted Swift Justice among the "successes" and "sweeping changes" that the judicial system has seen in the last four years.
She said the administration of justice in The Bahamas has seen a "major" transformation as a direct result of the Swift Justice initiative.
"Swift Justice is working," said the Attorney General." "The judicial system in the Commonwealth of The Bahamas works and it has shown significant improvement. Undoubtedly, there is room for improvement – there always is — but things are finally, finally moving in the right direction.
"Our system enshrines the separation of powers. Importantly, it also demands cooperation and collaboration between the branches of government. There is deepening cooperation between the executive and the judiciary."
The special ceremony to mark the opening of the 2017 Legal Year was held Wednesday, January 11, 2017 at the Supreme Court, Bank Lane. In attendance was Chief Justice the Hon. Sir Hartman Longley, President of the Court of Appeal, Dame Anita Allen; other justices; Elsworth Johnson, President of the Bahamas Bar Association and members of the Legal Profession.
The Attorney General suggested that the greatest indicators of the cooperation and collaboration are the systemic changes that Swift Justice has put in place simultaneously to close conflicts in calendars; unavailability of transcripts; inability to empanel juries and inability to obtain representation for accused persons. The changes respectively implemented are: integrated justice; a new court reporting unit utilizing new systems; a new jury administration system and the Office of the Public Defender.
She reported that the use of technology has amplified the effect of closing off the "escape routes" as video conferencing capacity exists in every court and all matters between charge and trial can now be conducted by videoconference from the Department of Correctional Services at Fox Hill.
"This means that only persons being tried need to be brought down daily from Fox Hill to the Courts in Bank Lane. The motoring public has already felt the positive effect of this change. And, citizens who have sat on juries have already applauded the use of digital projection of photographs and the recent inclusion of digital projection of documents."
Swift Justice will be extended to the Magistrate's Courts in 2017. The Attorney General announced that prosecutors from the Office of the Attorney General will prosecute serious matters such as drug, gun and trafficking offences in the Magistrate's Court.