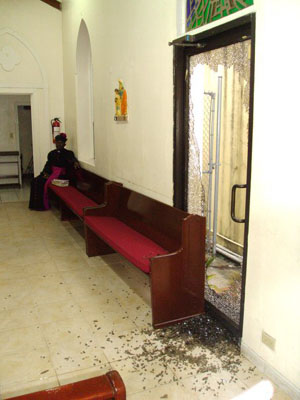 Nassau, Bahamas — Worshipers at the St. George's Anglican Church in the Valley went to mass this Monday morning all to find a shocking display.
No, the stone was not rolled away, but the side door of the church was shattered and the church office ransacked by the Rwandan Style Gangsters [ROBBERS]. Thieves gained access into the Parish offices and smashed the glass to the church bus.
BP can confirm this is the third break-in into the House of GOD by demons who are wreaking havoc and terror into the lives of residents all over the country.
You would remember just a few weeks ago bandits broke into the Immigration Department offices, the Road Traffic complex, the Nassau Street courts, The Passport offices and the Supreme Court building desecrating the offices of a judge. And this early morning's robbery was no different. Thugs went into the church, pass the BLESSED SACRAMENT and kicked down the administration office doors and ransacked the area with no regard for GOD OR COUNTRY. WHAT IS THIS?
We are shocked and 'horrorfably' dumbfounded by the incident. Church members told BP, "This is the third break-in into the church in that last month. We are safe nowhere it seems. Life in the Bahamas is fast becoming a nightmare."
Damages left by bandits was in tune of over $1,500. No money we are told is kept at the facility.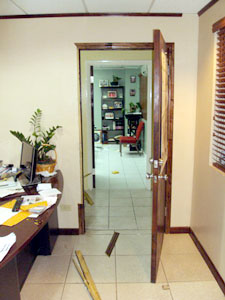 "Why would bandits break into the house of prayer? We are selling hope here. We are in the business of saving souls, redeeming workers for the kingdom. Feeding the hungry and sheltering the naked," another sadden member said.
Meanwhile rector of the parish, Fr. Kingsley Knowles appeared sadden by the incident as he sat on a pew where the bandits entered.
Bahamas Press has repeatedly called for the resignation of the most incompetent minister in all the history of the Bahamas, Tommy Turnquest, for his naked abandonment, blind neglect, gross incompetence and paralyze handling of the crime problem.
Tommy Turnquest told the nation he knows where the criminals are, yet he refuses to rid our streets of the thugs who are maiming the elderly, raping children, ransacking temples, wrestling Justices to the ground, murdering the innocent, committing daylight hiest and threatening the livelihood of the Nation. WE ARE IN CRISIS!
The Barbarians are at the gates of the Church!
WE NEED CHANGE!