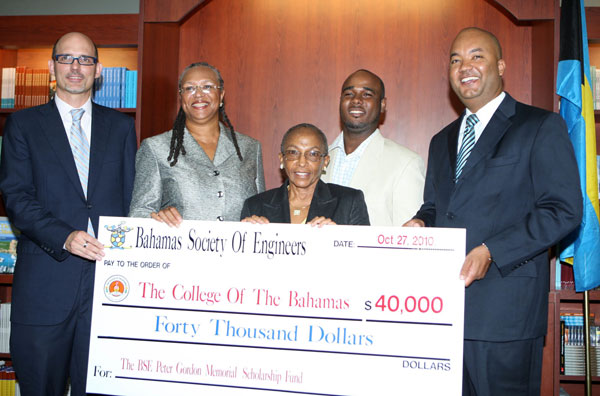 NASSAU, The Bahamas — The College of The Bahamas President, Dr Earla Carey-Baines thanked The Bahamas Society of Engineers (BSE) for its $40,000 gift to fund the Peter Gordon Memorial Bursary.
During a press conference on Wednesday, October 27, 2010, Dr Carey-Baines said the Memorial Bursary is named in honour of the former Director of Public Works, who contributed significantly to the development of the engineering profession.
"His mentorship has been invaluable to many who have followed his professional footsteps," she said at the Chapter One Bookstore.
The financial contribution will fund an endowment, ensuring that a scholarship opportunity will be available for eligible engineering majors at the College, Dr Carey-Baines noted.
"The bursary will be awarded to a student enrolled in a full-time undergraduate degree programme in engineering at COB who has a demonstrated financial need," she said.
Engineering is one of COB's most highly subscribed programs in the School of Mathematics, Physics and Technology; in fall of this year, approximately 80 students were enrolled in this programme alone, Dr Carey-Baines explained.
"This most generous gift demonstrates that The Bahamas Society of Engineers recognises the critical importance of supporting our students and fostering opportunities through which they can attain a high quality tertiary education," the college president said.
Through the gift, the Society joins a long list of private donors and friends who have supported the College and its students through their philanthropy.
Chairman, BSE Scholarship Committee, Robert C. Deal Jr. explained that Mr Gordon, who was born in the United Kingdom, left a legacy in The Bahamas where he mentored many engineers through their professional development.
Mr Deal also thanked the 45 sponsors and those within the Society who assisted in the collection efforts of the Scholarship Committee.  He said the Committee exceeded its collection target by more than $5,000.
President, The College of The Bahamas Union of Students, Antonio Butler said, "For some fortunate students studying engineering, this gift and the endowment that will result will mean the difference between having a dream and being able to bring that dream to fruition."
The prevailing economic conditions, coupled with financial challenges facing many families, place the dream of having a quality college or university education out of reach for some students who aspire to become contributing members of the society, he said.
"But through gift, and others like it, private donors are ensuring that this is no longer an obstacle to accessing tertiary level education," Mr Butler said.