Nutritionist DGMlife
www.DGMlife.com
If you are one of those people who think that holiday celebrations are to blame for losing the slender figure achieved so hard during the year. To you is this grocery list. Also this might help you select a healthy menu that it will be part of your holiday meals or sure.
Vegetable and Fruit Aisle
You just cannot go wrong in the vegetable and fruit aisle. Throw anything that appeals to you into the cart. The following are popular choices:
Bananas
Oranges
Spinach or other leafy greens
Onions
Broccoli
Tomatoes
Apples
Pumpkins
Sweet potatoes
Red grapes and berries
Coleslaw mix
Red peppers
Portobello mushrooms
Garlic
Flaxseed and sesame seeds
Snack Aisle
You do not need to avoid the snack aisle. Just choose snacks that are healthier, such as:
Dark chocolate
Baked tortilla chips
Salsa
Almonds or walnuts
Whole-grain baked crackers
100-calorie snack packs
Graham crackers
High-fiber cereal bars
Reduced-fat microwaveable popcorn
Reduced-fat Hummus
Baking Goods Aisle
These are some good choices from the baked goods aisle:
Nonstick cooking spray
Fat-free muffin mix
Whole-wheat flour
Reduced-sugar maple syrup
Olive oil
Raisins and craisins.
Vinegar (try apple cider or red-wine vinegar)
Cooking wine (red or white)
Old-fashioned rolled oats

Herbs and Spices
Rosemary
Cinnamon
Black pepper
Italian seasoning
Beverage Aisle
Some popular choices from the beverage aisle include:
Sugar-free hot chocolate mix
Reduced-sugar fruit juice
100% real fruit juice
Tea
Reduced-sodium vegetable juice
Grain Aisles
These items can help you make healthful meals:
Whole-grain pasta
Brown rice
Couscous
Whole-grain, reduced-calorie English muffins
Whole-wheat tortillas
Canned Food Aisles
The following foods are good to keep on hand in your pantry:
Stewed tomatoes
Low-sodium spaghetti sauce
Olives
Sun-dried tomatoes in oil
Canned chicken, salmon, and/or tuna
Peanut butter
Low-sodium soups
Chunky applesauce
Condiment Aisle
The following items are good alternatives to standard condiments, which have more fat and/or sodium:
Low-sodium soy sauce
Dijon mustard
Reduced-fat mayonnaise
Reduced-fat tartar sauce
Low-fat or fat-free salad dressings
Frozen Food Aisles
The frozen food aisles have many healthful choices, including:
Low-fat ice cream or Popsicles®
Vegetables
Black-bean burgers or other soy "meat" products
Whole-grain waffles
Berries
Reduced-fat pizza dough
Bagels (1-oz size)
Meat, Poultry, Fish, and Deli Counters and Aisles
The following are good selections:
Frozen salmon patties (wild Alaskan)
Grilled chicken strips
Lean beef or pork cubes for stir-frying
Deli turkey or lean ham
Turkey or chicken breast cutlets
Extra lean ground beef
Dairy Case
Some good dairy choices include:
Reduced-fat sour cream
Skim or 1% milk
2% milk cheese
Feta or blue cheese
Parmesan cheese
Light margarine spread
Low-fat yogurts
Reduced-fat cottage cheese
REFERENCES:
http://www.rd411.com/index.php?option=com_content&view=category&id=96&Itemid=390. (Extracted on November 2010).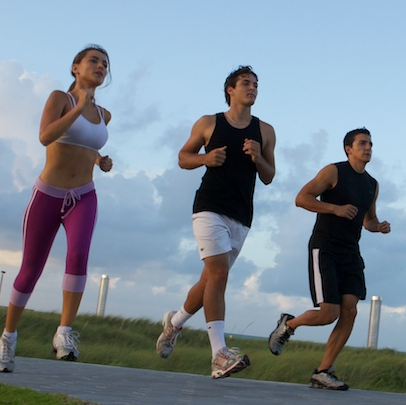 DGMLIFE is a team of certified Personal Trainers and Fitness experts with over 8 years of experience in changing the physiques and improving the health of its clients. Based in Miami, they create comprehensive personal fitness and training programs for clients around the world. To learn more please visit www.DGMLife.com