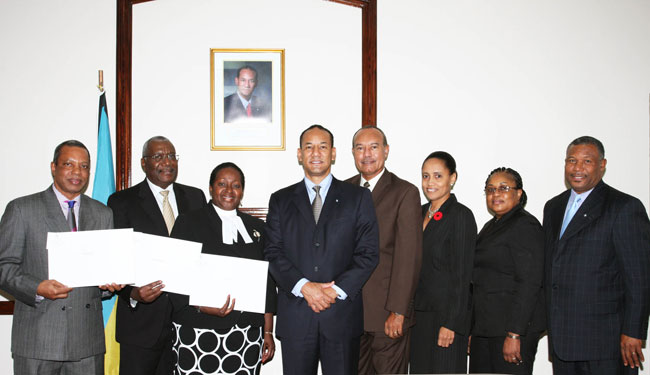 Nassau, The Bahamas – Senator the Hon. John Delaney, Attorney General and Minister of Legal Affairs with responsibility for relations with the Utilities Regulation Competition Authority (URCA) and Minister for purposes of the Utilities Appeal Tribunal Act 2009 presented the instruments of appointment to the members of the Utilities Appeal Tribunal at the Office of the Attorney General on Monday, November 8.
The Tribunal members have been appointed under the Act by the Governor General on advice of the Judicial and Legal Service Commission and are as follows: Cathleen Johnson-Hassan, President; Elliott Lockhart, member; and Lowell Mortimer, member.
The Tribunal has exclusive jurisdiction to hear and determine all appeals, matters and disputes relative to a sector regulated by URCA.
The Attorney General said the appointment of the Tribunal is a "critical"  element in the regulatory regime governing the utilities sector.  He said all the appointed members are senior and "respected" members of the legal profession.
The Attorney General congratulated the inaugural members of the Tribunal on their appointments.  Also in attendance were family members and senior officers of the Office of the Attorney General and Ministry of Legal Affairs: Permanent Secretary Archie Nairn, Director of Legal Affairs Deborah Fraser, Director of Public Prosecutions Vinette Graham Allen, and Under Secretary Leroy Sumner.