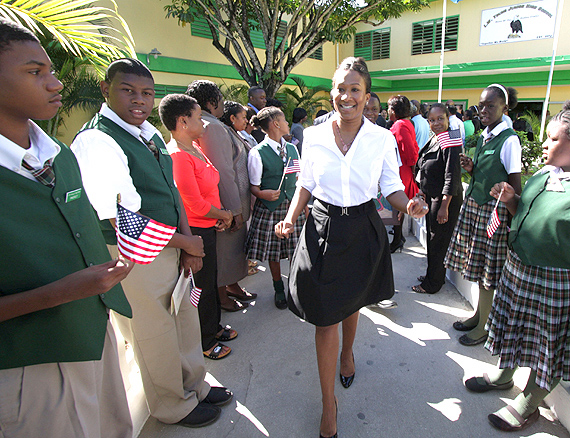 Nassau, Bahamas — Students and teachers at L.W. Young Junior High School enthusiastically welcomed U.S. Ambassador Nicole Avant at a special assembly celebrating Library Week held at the school on November 9.  Under the theme "The Importance of Reading," Library Week is designed to encourage students to set aside time to focus on the value of reading.
Quoting African American writer Maya Angelou as one of her favorite authors, U.S. Ambassador Nicole Avant told the students that there is really no better way for young people to discover, connect with, and learn from the world's rich and diverse cultures and societies than reading a book.  "As you transition from adolescence to adulthood, and from junior high, to high school, to college, it is important to remember that reading is a key building block of learning that will allow you to achieve your full potential – not only academically – but also in acquiring vital knowledge about the world around you," she said.
In attendance at the special assembly was a team of senior officials from the Ministry of Education led by the Minister of Education, the Honorable T. Desmond Bannister.  In his remarks, Minister Bannister thanked Ambassador Avant for attending and noted that her presence at the event is testimony to her commitment to the education of Bahamian children.