'Team Tourism' Celebrates Successes with Thanksgiving Service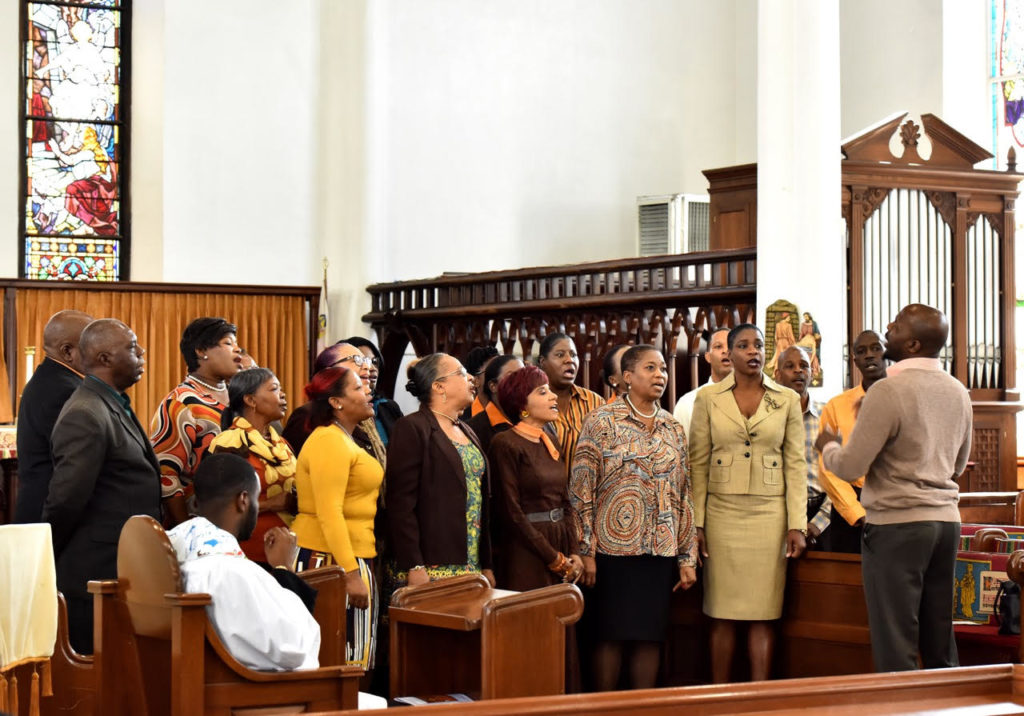 NASSAU, The Bahamas — Officials at The Bahamas' Ministry of Tourism and Aviation Thursday celebrated a successful tourism season for the first eight months of 2018 with a service of Thanksgiving at Christ Church Cathedral.
Minister of Tourism and Aviation, the Hon. Dionisio D'Aguilar said the tourism industry in The Bahamas has a lot to be thankful for thus far, after recording double-digit increases in a number of areas over the same period for 2017.
"Let us dispel any confusion around the notion of Thanksgiving," Minister D'Aguilar said. "Thanksgiving is an attitude, a state of mind that moves us to pause to acknowledge and count our blessings. Thanksgiving is not a state of bliss where we sit on our laurels and become complacent in our accomplishments. Complacency is not a luxury that we in The Bahamas can afford ourselves.
"Thanksgiving is a time we set aside to count our blessings. We have all worked hard on all fronts to propel our number one industry forward. Thanks be to God, we are seeing the fruits of our labour, in quantifiable terms."
Minister D'Aguilar said the 300 management and staff members of The Bahamas' Ministry of Tourism and Aviation all work with the objective of achieving increase. He said he was happy to note that this current year, 2018, has proven to be a year of increase.
"For that, we give thanks. Our visitor arrival statistics show marked increase over the first seven months of 2018. For Nassau, we have seen a 15 per cent increase in stop over visitors, air arrivals, between January and July of this year, as compared to last year. Visitor arrivals, air and sea combined, to the Family Islands have shown an increase of 20 per cent between January and July of this year.
"Our marketing strategy of promoting The Bahamas as a 16-island destination is yielding the desired results of creating a distinct brand identity for individual islands of our Family of Islands. Islands such as Exuma, Abaco, Bimini, Harbour Island, Eleuthera and the like are becoming household names in the consciousness of international travel consumers. Our destination, overall, is becoming more visible in the international travel marketplace, resulting in greater investor confidence in our nation."
The Tourism and Aviation Minister applauded the staff of the Ministry of Tourism and Aviation for the roles they play "in making tourism a viable enterprise in our small, great nation."
"My dear colleagues of Team Tourism, throughout Scripture, we are admonished to cultivate an attitude of gratitude and a heart of thanksgiving, and in that vein, I am delighted that we are all gathered here, in the House of God, this morning, on one accord, to count our blessings and render thanks to Almighty God.
"We are a Team of more than 300 professionals united in purpose, to secure the chief livelihood of our nation. Each of you has committed to put your shoulder to the collective wheel to keep on course an industry that employs two-thirds of our populace. Today gives us a moment to pause to acknowledge the critical importance of your contribution to our nation.
"Every day, consistently, you bring your energy, your drive, your brains, and in many cases, your beautiful smiles, to the workplace. You bring your contribution to the table. You make things happen. You keep the momentum going. And as a result, we move forward and make progress in our efforts to take tourism to the next level.
"Team Tourism, we cannot slack our ride. The tourism competition in the region and in the international marketplace is stiff and relentless," Minister D'Aguilar added.