Young Bahamian Officer Headed for training…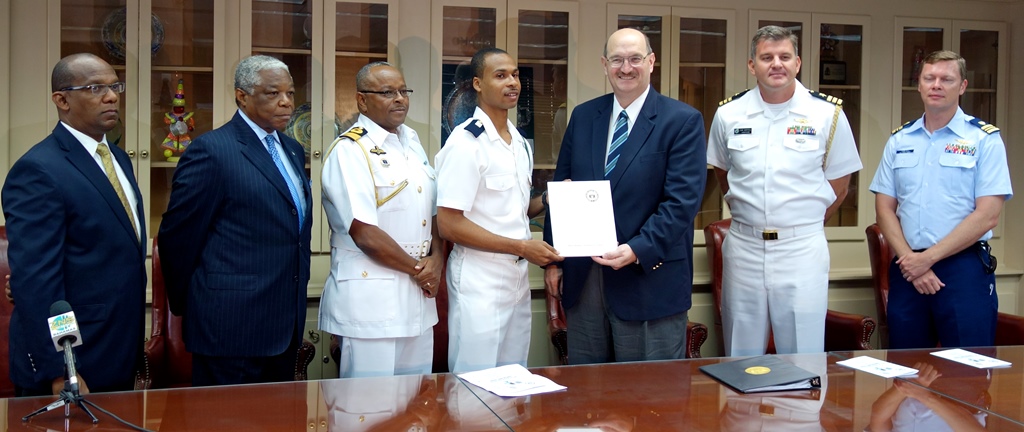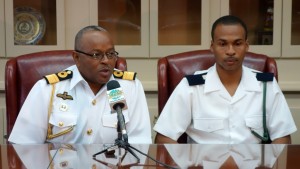 On Thursday, June 19, a special ceremony was held at the Ministry of National Security to formally recognize Midshipman Darius Adams, who has become only the second Bahamian in more than seventeen years to be accepted into the prestigious United States Coast Guard Academy on a full academic scholarship. On hand for the special occasion, Minister of National Security The Hon. Dr. Bernard Nottage, U.S. Chargé d'Affaires John Dinkelman, Commodore of the Royal Bahamas Defence Force Roderick Bowe, Permanent Secretary in the Ministry of National Security, Carl Smith, Office of Defense Cooperation Senior Defense Attaché, Cdr. Samuel Wartell, Lcdr. U.S. Coast Guard Liaison Officer Tom Gill, and the family of Midshipman Adams.
Darius' acceptance into the U.S. Coast Guard program was due in part to joint efforts of RBDF officials and the U.S. Embassy's Coast Guard Liaison Office to support bilateral ties between The Bahamas and the United States in areas of border and maritime security.
Prior to formally presenting Midshipman Adams with his scholarship acceptance letter, Chargé Dinkelman congratulated Darius on the historic achievement and his willingness to serve The Bahamas. The Chargé added that the country is placing special trust and confidence in his integrity, ability and good character as he joins a very distinguished list of cadets joining the academy.
Minister Nottage thanked the United States Government for its continued assistance to the Royal Bahamas Defence Force, adding that the opportunity will afford Midshipman Adams with the finest military education. He noted that Midshipman Adams demonstrated physical prowess, mental toughness and extraordinarily high aptitude to be selected following a rigorous recruitment process.
The U.S. Coast Guard Academy located in New London, Connecticut provides a four-year Bachelor of Science degree program with a full scholarship for each successful student applicant. The extensive hands-on training will provide Midshipman Adams with skills in a multi-mission maritime military force focused on safety and security as well as provide critical service in the protection of natural resources, maritime mobility, and national defense. Prior to his selection, Darius attended Pensacola Christian College, where he earned a 3.78 GPA. While in Connecticut, Midshipman Adams will pursue a Bachelor's Degree in Electrical Engineering. Following successful completion of the program, he will be better equipped to serve a rewarding career in maritime military service with the Royal Bahamas Defence Force.