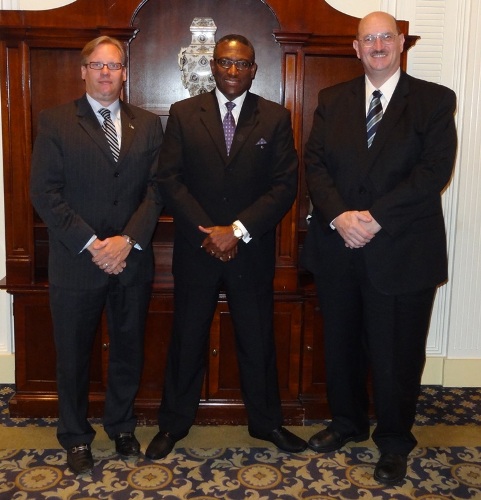 On Tuesday, September 11, the World Trade Organization (WTO) SPS Enquiry Point and National Notification Authority Training Conference officially opened at the British Colonial Hilton Hotel.  The workshop, sponsored by the U.S. Department of Agriculture, is designed to expose Bahamian decision makers to the issues associated with WTO accession.  The goal of the WTO is to improve the welfare of the peoples of its member countries, specifically by lowering trade barriers and providing a platform for trade negotiation.
On hand for the opening were U.S. Chargé d'Affaires John Dinkelman, The Hon. V. Alfred Gray, Minister of Agriculture, Marine Resources and Local Government and The Hon. Ryan Pinder, Minister of Financial Services.  The conference delegates include government representatives associated with The Bahamas' food, safety, animal and plant health regulatory systems, which are key components to building the regulatory framework necessary for the accession of The Bahamas to the WTO.
Although The Bahamas is the only country in the Western Hemisphere without membership in the WTO, U.S. Chargé d'Affaires Dinkelman applauded the progress made by The Bahamas over the last ten years in laying the groundwork for WTO accession.
"Your participation in this technical training demonstrates The Bahamas' strong commitment to putting the necessary regulatory infrastructure in place to become a member of this global body," the U.S. Chargé d'Affaires told the gathered delegates.  He also emphasized that trade liberalization will provide the framework for the enhancement and advancement of current, future and aspiring development in The Bahamas.
The workshop is the first of multiple technical trainings and dialogue with Bahamian officials on the development and implementation of food safety and animal and health regulatory systems required for WTO accession. This training will focus on the Agreement on the Application of Sanitary and Phytosanitary Measures, better known as the SPS Agreement, which lays out principles and obligations for countries seeking to maintain appropriate protections related to food safety and animal and plant health. The objective of the training is to promote in-depth understanding of the Notification Authority and Enquiry Point functions with the goal of facilitating The Bahamas efforts in developing the management systems needed to efficiently perform these regulatory functions.