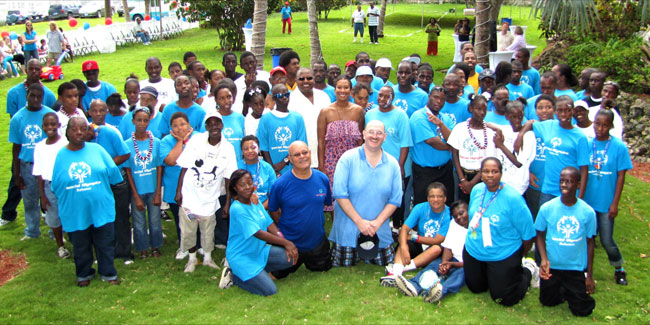 Nassau, Bahamas – For the second consecutive year, U.S. Ambassador Nicole Avant and members of the U.S. Mission to The Bahamas hosted more than 200 Special Olympics Bahamas athletes and volunteers on Saturday, October 8, to honor the indomitable spirit of the woman who started the Special Olympics movement, Eunice Kennedy Shriver.T he Minister of Youth, Sports and Culture The Hon. Charles Maynard was also on hand to celebrate the occasion.
In celebration of Eunice Kennedy Shriver (EKS) Day, which is celebrated around the world each year, Ambassador Avant transformed the front lawn of her "Liberty Overlook" residence into a mini "Camp Shriver" with games, food and music. U.S. Mission officers and their family members were on hand to demonstrate their support of Special Olympics by serving food, refereeing games and dancing along aside the athletes.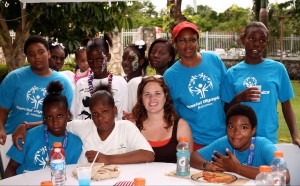 "EKS Day is more than just a tribute to Eunice Shriver, it is a tribute to Special Olympics for its work in ensuring that all people are accepted, regardless of their abilities," said Ambassador Avant. "As Eunice K. Shriver once said, 'There is no purpose more noble than to build communities of acceptance for all'.
Everyone enjoyed all the pizza that they could eat thanks to Marco's Pizza generous donation of 150 large pizzas. Texaco also showed their support to Special Olympic by donating tenting to help keep the game field dry.
To learn more information about Special Olympics Bahamas or to become a volunteer for the organization, please visit Special Olympics Bahamas on Facebook or email: info@sobahamas. org .