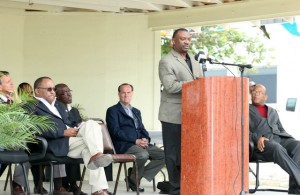 EXUMA, Bahamas —  Here is another story you will only find on Bahamas Press, and when read deeper you would see the WUTLESSS MEDIA was at the launch event but refused to do the followup.
On Jan 14th 2011 a contract with much fanfare was signed with a Contractor with no prior experience in building or repairing docks as per attachment with a projected completion date of 90 days.
The contractor framed up the dock and covered sections with fill.
Work on the dock ceased immediately thereafter and the MP for Exuma Anthony Moss expressed deep concerns on behalf of his Constituents.
MP Moss questioned as whether provisions was made in the contract for pilings as the old one had rotted away. Ministers Neko Grant and Phenton Neymour assured Moss that same was included in the contract.
The cessation on the work continues as noted in the attached photos.
BP is advised that much of the fill was washed away during the passage of the recent Hurricane.
The People of Exuma are shocked and bewildered that a contract executed by the FNM Government on January 14th 2011 with a completion date of April  2011 remains in disgraceful state for six months with no completion date in sight.
Exumaians are shocked and surprised that they are being treated so shabbily by this Outgoing Government of Trust. In the meantime Exuma's MP Anthony has tabled questions in the Parliament at its recent sitting, we await the answers.
Dock Contract Issued and NO WORK DONE!!! FOLLOW THE MONEY…
Georgetown Dock in the amount of
$325,120.30 to R & F McKenzie Construction Co. Ltd.
This refurbishment will consist of:
• Demolition of the existing bulkhead and designated bollards; • Repair of existing damaged sheet pile; • Construction of new footings for designated bollards and installation of new bollards at the same; • Construction of a new bulkhead with a new roll on/roll off ramp; • Supply and installation of new light poles with lights; and • Construction of a new approach pavement.
The Contract is YET TO BE COMPLETED!!!