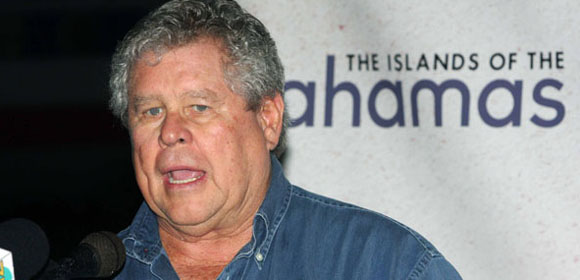 Nassau, Bahamas – Less than 24 hours after Sandals Royal Bahamian closed its doors for two months of extensive repairs, the sound of jackhammers and heavy equipment pierced the air on the pool deck and surrounding area where visitors from around the world normally lull in the midday sun, listening to reggae and soft sounds.
"From the moment that corporate engineers said we could not complete this work with guests in the resort, we had no choice but to temporarily close down this property," said Gordon 'Butch' Stewart, Chairman of the award-winning hospitality brand that has built its reputation on romance in settings of beachfront perfection. "We wanted to accomplish the work in the shortest period of time so as the last guests departed, the heavy equipment moved in."
The closure resulted in some 600 staff members being made redundant, the only legal option available to the resort, according to its legal counsel, Lennox Paton. As heavy equipment revved up on the hotel property, just a few miles away from the Cable Beach resort at Christ the King Church hall, Sandals Royal Bahamian staff were receiving severance pay and benefits packages with the highest line staff taking home upwards of $22,000 and the top supervisory staff more than $34,000. Both days of the redundancy exercise were smooth and trouble-free, with staff members being advised that they would be first in line for the interview and application process that would begin as early as next week. About 60 workers will be transferred to Exuma where Sandals Emerald Bay will accommodate many of the guests being relocated from Nassau because of the construction.
In addition to tearing out the vast pool deck and rebuilding the pool, repairs include extensive plumbing throughout the tower, renovations to beach villas, addition of a new dining experience and soft upgrades to interiors. Sandals management said earlier it made major repairs when it bought the 70-year-old property 20 years ago but what it hoped would be continual maintenance evolved into deeper issues that they have been trying to deal with for the past year while operating the popular resort and spa featured in TV ads worldwide.
"The charm of older properties cannot be reinvented or re-created," said Mr. Stewart. "We were committed to bringing Sandals Royal Bahamian up to the grandeur and style she deserves and delivering the standard which our guests have come to expect. We will have a grand re-opening in October and look forward to our best season ever."