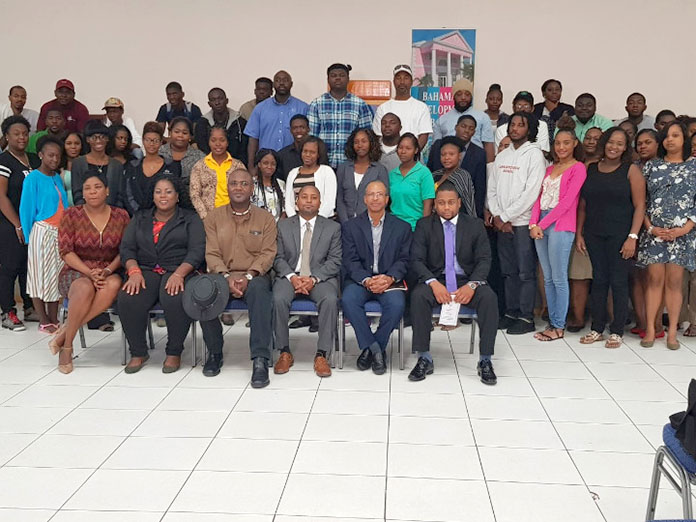 Freeport, Grand Bahama – "I didn't come here to offer any of you a job, even though I know that for us here in Grand Bahama, that's not something that you want to hear."
With those words, Minister of State for Grand Bahama in the Office of The Prime Minister, Senator Kwasi Thompson welcomed participants of the first ever Youth Apiary Business Venture, which got underway on Thursday, October 26, 2017, at the Bahamas Union of Teachers Hall.
"One of the things that we must be able to do is to continue to create that entrepreneurial spirit and bring that spirit back to Grand Bahama. I don't want to give any of you a job. I don't want you to just think about where you can find a job, because in this economy and in this Grand Bahama, that is simply not just enough. It is not enough for young people to continue to come to events like this and believe that it's enough for them to just go out and look for a job.
"That may seem like a very harsh statement for a Minister to make, but today, I want to give you an opportunity to start your own business. So you don't just provide a job for yourself, but you provide a job for other people as well."
That opportunity could come in the form of a new business venture in the field of beekeeping, or 'apiculture,' an initiative geared toward the development of entrepreneurs in Grand Bahama. A week ago Minister Thompson had announced the Government's intent to start the programme and invited interested persons to sign up to be a part of the opportunity to own a business.
Just over a week later, Minister Thompson was on hand to welcome the first group of participants: more people than expected turned up, which Minister Thompson was excited about. Thursday was the first of a two-day seminar for all of the participants; it was designed to give them an in-depth look into the world of beekeeping.
Although only 30 individuals will be chosen to form the new company, there were over 100 individuals who showed up for the primary launch on Thursday morning.
"Today is really the beginning of a package deal for you," Minister Thompson told the participants who had gathered for the first day of the programme. "I don't know of many programmes that provide the kind of package deal you will be getting today — you will be trained in a skill; a skill [with which] you will be able to make money; in a skill where there is a genuine need in Grand Bahama, in The Bahamas and even a genuine need in the world.
"I don't want you to just think about having a business on the side where you can make a couple dollars – take that out of your mind. I don't even want you to just think about having this business to help you make a product just for Grand Bahama or maybe even provide a product for The Bahamas. I want you to take that out of your mind too.
"Today could be the start of you producing a business that can provide honey to the rest of the world and in the process become a multi-million dollar company. It is possible."
Minister Thompson added that producing such a company, although possible, will not be an easy task. He reminded them that it will take commitment, hard work and a desire to succeed.
The group that will eventually be chosen to set up this new company venture will go through a 14-week training programme and be paid a stipend. At the end of the 14 weeks those individuals will be provided with funding from the Bahamas Development Bank to get the business started.
Once the company is set up, the business owners will go through more training to give them insights into business management, marketing, distribution, and sales.
The apiculture programme is a partnership of the Government of The Bahamas, the Bahamas Development Bank, and the Inter-American Institute for Cooperation on Agriculture.
"I want you to really grasp this opportunity before you and drive at it with passion, because the government is very aware of the economic situation in Grand Bahama and we have to be very creative in our approach to dealing with solving this dilemma," said Minister Thompson. "This is one of the creative ways we are confident will yield exceptional results, not just for now, but far into the future.
"At the end of the day, somewhere sitting in this very room, I expect to see successful businesses coming out of this."