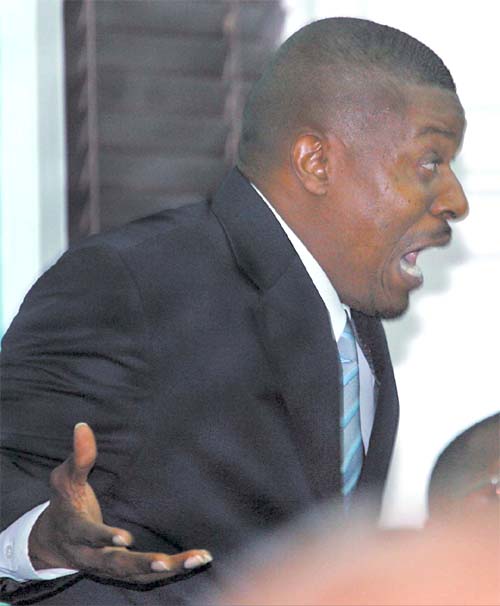 <<< Zhivargo Laing, minister of state.
The Nation could not be more disappointed. On Thursday evening in the House of Assembly, Hubert Ingraham (THE BALD HEAD MONK) broke tradition and allowed his political son, Zhivargo 'Cry Baby Sour' Laing to give his contribution on the Mid-Term Budget, just after opposition leader Perry 'Pussy Cat' Christie's.
Laing lectured members of the PLP seated on the opposition side. He chided PLP parliamentarians for their failures in the one term Christie government. He admonished all members of his government to, do what they can to advance the cause of the people of the Bahamas whilst they're in office.
The comeback kid's speech was a stellar performance for the MP who had endured much suffering over the last year. Laing was clouded with the SCANDAL of MONA VIE. He was accused of breaking of the laws of the Bahamas, causing the tariff on the drink to be reduced for his sister-in-law. Laing was not allowed to speak during the 2008 Mid-Term Budget. And PLP members did not REMIND HIM ABOUT THAT as he found strength once again!
Then Laing battled for his seat in the election court against former Senator Pleasant Bridgewater. Laing won, and Bridgewater is now still in court for another matter. Preacher Laing must be a raising political gladiator. No one can seem to stop him, catch him, trip him down or cause him to resign. It appears at every corner he slips out of his captures hand and rises again and again.
His performance was so well presented that it caused Ingraham to stand to his feet and shook his hand, telling Laing he was very proud of him. With FNM MPs SLAMMING tables and praising Laing at the end. One FNM MP shouted, "THIS MUST BE THE 'A' TEAM!"
The the PLP side had a different picture. They all sat quietly like school children taking a lecture from a college professor.
As Laing came to the conclusion of his speech, he decided to fling a rock outside the House, which landed on Bradley Roberts, the former minister of works. Laing charged that in a communication delivered by BTC executives to him, that the former PLP minister in charge of BTC, was involved in scheme to hire PLPs at the corporation, just before the May 2nd general elections.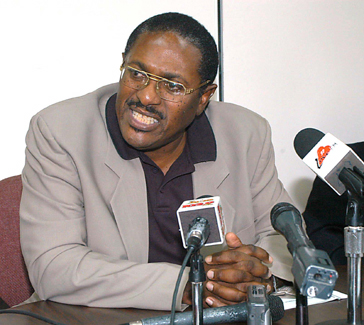 Laing said, that the Bahamas Telecommunications Company document shows that former minister Bradley Roberts as minister gave specific instructions to BTC officials to hire people chosen by his PLP colleagues just before the May 2nd, 2007 general elections.
What was interesting here however is that the junior minister LAING proceeded to suggest that Roberts cherry picked persons [PLPs] to fill these vacancies at BTC.
Laing's information was wrong in this. "CRYBABY" LAING HAS MISLED THE HOUSE and the COUNTRY! Meanwhile, reporters repeated Laing's charge, without researching the points he presented.
Who remembers when Christie shuffled his Cabinet on February 21st, 2006? When that Cabinet shuffled commenced, Bradley Roberts was removed as minister with responsibility for BTC. Marcus Bethel assumed ministerial responsibility for the Corporation. And B. J. Nottage became Minister of Health. That transition of Cabinet portfolios commenced almost one year and a half before the general elections. Roberts in fact would not have had any ministerial authority to hire anyone at BTC. But here once again, LAING carried out his script as written with Ingraham's ink late into the night, and not a PLP budge to defend their former colleague Roberts.
None of the PLPs called for Laing to withdraw his statements, nor did Christie stand to defend the attack against one of his own. Members of the WUTLESS MEDIA also continued the LIE against Roberts. Well, we don't expect much from them! They don't know who was the minister with responsibility for BTC today, so imagine before the elections? And based on the communication presented, NOR did LAING!
Roberts should demand an apology from every member of the WUTLESS MEDIA or SUE The Morning Dailies IN THE COUNTRY FOR their negligence. LAING MISLEAD THE COUNTRY AND USED Roberts NAME IN THE PROCESS! The press never checked the information, but as agents for the FNM, they reported just what Hubert gave them to report. THEY WUTLESS ECH?
PLPs will soon learn, and learn quickly that they will be in opposition for a very long time, if they continue to allow LAING, Ingraham and ULTIMATELY the FNM (the "A" = ARROGANT TEAM!) to get away with 'POLITICAL MURDER'!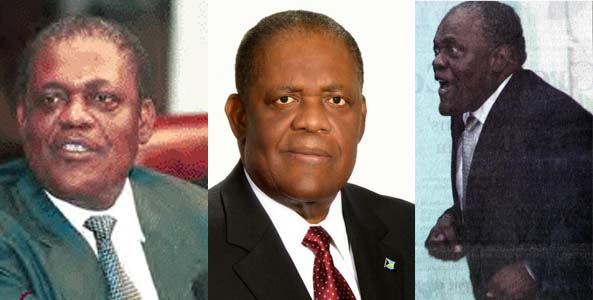 People in this town are HUNGRY, UNEMPLOYED, CANNOT BUY MEDICINE, and ARE LOSING THEIR ENTIRE SAVINGS along with their homes. The last thing they want to hear is what happened in the last five years of the PLP. No wonder why every move the FNM makes, they're wrecking this country! They keep looking behind whilst the nation drives forward into HELL's parking lot!
WE NEED CHANGE!