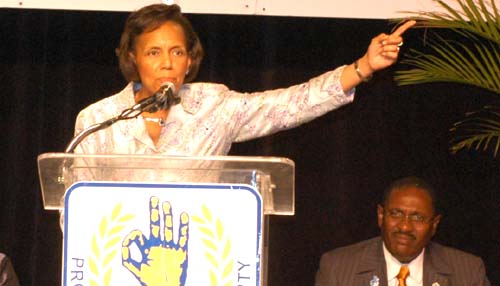 <<< Madame Senator Maynard-Gibson.
BAHAMAS PRESS applauds Madame Senator Maynard-Gibson, for her clear diagnosis of "The Bald Head Monk" a.k.a. Hubert Ingraham, prime minister, dictator, defacto police commissioner and defacto everything else in law enforcement; during her contribution to the Police Act in The Senate on February 26, 2008.

Bahamas Press believes the assault on Ingraham's genetically flawed logic and thought processes during her debate on the police act was timely, because during his last term as prime minister, he showed his scorn for spiritual protocol by having a house session on Christmas Eve! And true to form he held a house session on Ash Wednesday of this week! So it was timely that Madame Senator Maynard-Gibson "poured hot ashes" on him that he scornfully avoided on Wednesday during her debate on Thursday past!
Bahamas Press shares the following excerpts from Madame Senator Maynard-Gibson's contribution to the police act debate on Thursday past:

Madame Senator Maynard-Gibson started off by reminding the public of the preamble to the constitution. Madame Senator then continued by expressing The PLP's objection to certain sections of the bill, which she said is"
• IS UNCONSTITUTIONAL
• IS DISRESPECTFUL OF OUR CONSTITUTION AND THE BAHAMIAN PEOPLE
• SUBVERTS THE INTEGRITY OF THE RBPF RAISE QUESTIONS ABOUT THE INDEPENDENCE OF THE COMMISSIONER OF POLICE (COMMISSIONER)
• GENERALLY UNDERMINES THE CRIMINAL JUSTICE SYSTEM
• UTTERLY DISRESPECTS THE RIGHT OF BAHAMIANS TO MAKE MATERIAL DECISIONS ABOUT THEIR WAY OF LIFE
WE WILL MOVE FORMALLY AT A LATER STAGE THAT THE OFFENDING SECTION BE REMOVED. The sections of controversy that the government is playing games with our future.

1. GAME NUMBER ONE
• Destroying the HOPE that members of the RBPF can expect to be treated fairly and the HOPE that the RBPF is a place where young people can plan to have a long and fulfilling career
Example Number 1
• sending off persons who were in May 2007 ready, willing, able and qualified to become COMMISSIONER, under the guise of further training… readying them to take higher posts
• when they returned ready to assume those higher posts, it was clear to the public and to them that the government was playing games with their future
Example Number 2
• Unconstitutional firing of members of the police force
• Disgraceful, disrespectful and high handed termination of senior members who gave 30 plus years of unblemished service…life on line, protecting The Bahamas well before we had the luxuries that we have today…they help to build the FOUNDATION of the modern Police Force
• What did they get in return?
• Get out in 48h!!!!
• A letter telling them they have 48h to choose to retire or get nothing
• What kind of message is being sent when people who have served in an organization are told you can choose to retire in 48h with something or be fired and get nothing.
• This administration has demonstrated clearly its disrespect for PEOPLE
• imagine getting a letter on Wednesday telling you to be out by Friday (48h)
• after 30 years of service
• after being given a letter the year before signed by the COMMISSIONER that you will retire at retire at 65
• to go to the bank to rearrange your financial affairs after relying on that letter (saying that you would retire at 65) to incur financial obligations at the bank
º  you are to retire and the Commissioner is older than you
• To prepare yourself and your family for the shock that after 30 plus years of service and sacrifice your lives will be shaken up, changed forever and you will be sent to the wilderness
Imagine on Thursday (the next day) receiving a letter saying "In light of your impending retirement…"you must hand over your entire portfolio and be finished by Friday
• The 48h has not expired and you are told to:
• Hand over portfolio
• Hand over car
• Hand over cell phone
• Hand over clothes
All of these instructions received within 24h of being told that  you had 48h to retire or be fired
These honourable men and this female pioneer with unblemished records were forced out
This heartless administration refused to give them ANY time for them to put affairs in order
2. GAME NUMBER TWO
Destroying the HOPE that lives and accomplishments of Bahamian women pioneers will be respected
TRAMPLING ON THE NOBLE HISTORIC ROLE OF WOMEN IN THE RBPF
The scandalous manner in which the first Bahamian woman ACP, Juanita Colebrooke, was treated
Leaving a blemish on her and her historic accomplishment
Tremendous record of service
Highly respected
Set up the Urban Renewal ("UR")
Brainchild behind the UR initiatives
Outstanding record in the  Traffic Division
Example to female officers who loved her and were inspired by her
Totally adversely impacted morale of female officers
Leaving the suggestion that she did something wrong
When she retired she should have been hailed as the historic figure that she is
This is how the FNM rewards patriotism and hard work
Ask the hundreds of other Public Officers who were also cruelly treated by this administration and who have been left to pick up the pieces of their life and the lives of so many dependents
3. GAME NUMBER THREE
Destroying the HOPE that the government will protect the "fundamental rights and freedoms of the individual"
Destroying the HOPE that the COMMISSIONER's Constitutional Role will be respected
Causing the appearance that the COMMISSIONER has to sing for his supper
IT IS DISGRACEFUL THAT THE GOVERNMENT WOULD TREAT THE COMMISSIONER IN THIS WAY MAKING HIM LOOK LIKE A SLAVE OR BONDSMAN WHOSE LABOUR IS EXPLOITED AND WHO IS MADE TO SING FOR HIS SUPPER
Playing games with the tenure of the COMMISSIONER
• The COMMISSIONER's tenure is secure unless he jeopardizes his tenure by "misconduct" or "incompetence" as defined in the law
• In those limited situations the Constitution sets out the process by which he is removed
• The Constitution RIGHT NOW provides for removal in situations where the public interest is not being served
• COMMISSIONER is GUARANTEED due process by those provisions ALL of which were unanimously agreed by the Founding Fathers who attended the Constitutional Conference
• Two of the Founding Fathers have PUBLICLY stated that
• There was unanimous agreement that there should be security of tenure for the COMMISSIONER
• They believe that what the Government is now doing was NOT intended by the Founding Fathers who unanimously agreed about the security of tenure of the COMMISSIONER
• Under the new provisions any COMMISSIONER has now to consider how he will get his contract renewed
• How must he conduct himself
• How will he feed his family if his contract is not renewed
• If it is renewed, how long will it be renewed for
• If it is not renewed for long enough how will he feed his family …
• Will he be able to overcome the difficulty of a man in his 50s or 60s getting a job
•Should he start a side business so that he will be "set"
• The purpose of the existing provisions is to enable him to do his job without fear or favour or having to sing for his supper
THIS "SING FOR YOUR SUPPER" PROVISION UNDERMINES OUR CRIMINAL JUSTICE SYSTEM BY RENDERING IT A POSSIBLITY THAT THE COMMISSIONER IS A PAWN OF THE PM
IN THE EXAMPLES BELOW, I EMPHASIZE THAT I DO NOT AND AM NOT REFERRING TO ANY CURRENT OR PAST PM OR MEMBER OF THE EXECUTIVE
I BELIEVE THAT ALL OF THOSE PAST AND CURRENT MEN AND WOMEN ARE PATRIOTS AND THAT NONE OF THEM WOULD KNOWINGLY PRESSURE THE COMMISSIONER.
I AM GIVING EXAMPLES, ANY OR ALL OF WHICH, IN MY VIEW ARE WITHIN THE REALM OF POSSIBIITY
4. GAME NUMBER FOUR
Destroying the that HOPE the world can "mark the manner of our bearing" as we in "love and unity… march together, to a common loftier goal" one of which is the ability for Bahamians to join in agreeing a vision for the COMMISSIONER and the RBPF
DISRESPECT OF BAHAMIAN PEOPLE BY NOT ALLOWING THEM TO VOTE ON THIS MATTER HAVING NOT PUT IT IN THE FNM PLATFORM
Talk here about how if the FNM was going to change something so important it should have been in their Platform. When people voted FNM they would have known what they were voting for
When people voted PLP in 1972 they knew that they were voting for Independence
When people voted PLP in 2002 they knew that the PLP would not change the Constitution without education and consultation
Note the way that the FNM tried to force feed Bahamians with 10 amendments in 2002
Here they are again doing the same thing through the back door
5. Game Number FIVE
SENDING A MESSAGE TO OUR YOUTH THAT CONFLICTS ARE TO BE RESOLVED BY FORCE
In organizations, be they families or businesses or any other organization a good leader leads by consensus about the Mission or Vision of the family, a business or any oranization
• He does not DICTATE
• He should be able to articulate his vision and encourage people to follow it
• It trains young people to resolve conflict by discussion not exerting power (the FNM has the majority therefore will force its will on Bahamians)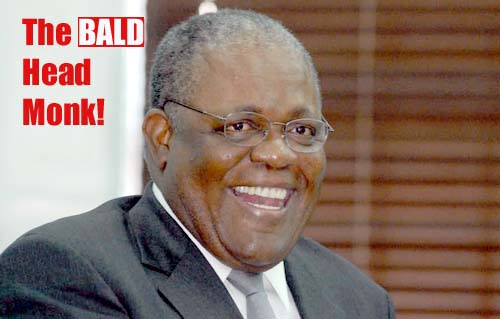 • This Bill is further evidence of the FNM forcing its will on people
• No wonder our young people are unable to resolve conflict
Far too many people in The Bahamas today force their will on people
Our Constitution says that our " Freedom will be guaranteed by a national commitment to Self-discipline, Industry, Loyalty, Unity and an abiding respect for Christian values and the Rule of Law"
It does not say force, cruelty, mean spiritednes, bullying or any other word suggesting the tactics used by the FNM … tactics that destroy families and communities
We ought to disassociate ourselves from that way of living
6. GAME NUMBER SIX
Destroying the HOPES and dreams of young people by putting a boulders around their necks so that they cannot "lift up their heads to the rising sun…"
• Today in The Bahamas we have an unprecedented suicide rate
• Today in The Bahamas we have almost 2 murders per week.
• Here we are debating this controversial provision that will not decrease crime and will not decrease suicide
• It shows the  TOTAL insincerity of the FNM
• A party with  NO VISION of our "common loftier goals…"
• The FNM laughing at the RBPF giving out "corned beef, sardines and grits"
• There are PLENTY people today who would love to have corned beef sardines and grits.
• The Police in May 2007 were seeing the successes of efforts at working with the Churches to restore hope, build self esteem, present options, build good citizenship in our communities
• They FNM dashed the hopes of all of the young people and all of the people involved in UR.
What we should be debating here today is how to restore HOPE
How do we " March on to glory, your bright banners waving high and let the world mark the manner of your bearing;"
Bahamas Press couldn't agree more; except that Madame Senator Maynard-Gibson should have also suggested that what should also be seriously debated in these present times,–is how can this nation gracefully and mercifully have it's prime minister committed to the asylum for the certifiably insane!