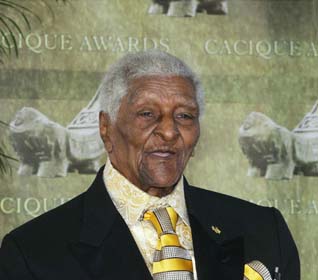 Nassau, Bahamas — Members of the Blue Ribbon Committee of the 16th Cacique Awards have announced that this year's Clement T. Maynard Lifetime Achievement Award recipient is Nathaniel "Piccolo Pete" Saunders of Bimini.
The announcement was made during a recent press conference.
The 100-year-old Biminite has been entertaining locals and visitors for over 80 years. He has performed for the likes of Ernest Hemmingway, Martin Luther King Jr., Richard Nixon and even Al Capone among others.
Mr. Saunders is the uncle of other famous residents of Bimini – brothers Ashley Saunders – coconut craft maker and Ansil Saunders – boat builder and Cacique Award winner.
Born, November 7, 1914, he's the community oldest, most respected and entertaining personality and considered the backbone of the Bimini community.
Uncle Natty Saunders – as he is affectionately called – celebrated his 100th Birthday in grand style at the Bimini Big Game Resort on North Bimini.
The celebrations also included a special mass at the Parish of Our Lady and St. Stephen, during which the Minister of Tourism and MP the Hon. Obie Wilchcombe attended, as well as officials of Local Government and the Office of the Prime Minister on Bimini.
Piccalo Pete was chosen to represent The Bahamas and its musical folklore at the Smithsonian Institution in the summer of 1994 on the Mall at Washington D.C.
He plays the Banjo and his known for famous popular songs like "Bimini Gal", "Never take a lickin' till you go to Bimini" and "Balamina".
He is also known to be a jazz singer.
Mr. Saunders was a fishing guide, and friends with noted American author and journalist Ernest Hemmingway, and was the inspiration for much of The Old Man and The Sea.
Upon revealing the news Mr. Saunders said, "I am very happy to receive this. God bless you all and thank you very much."
The announcement for the People's Choice finalists were also made.
The People's Choice Music Award for the secular category are Julien Believe: "242 Forward",Sky Juice Band with Lavant: "Crab Souse", Dillion McKenzie with "Back That Bam Bam".
For the Gospel Category of the People's Choice Music Award, the finalists are: Monique Terez:"I Surrender All,"Nehemiah Hield – "One More Hallelujah," Pam Collins – Cleanse Me".
The 16th Cacique Awards will be held on January 24th, 2015 at the Melia Nassau Resort, Cable Beach at 8:00 p.m.
Tickets will be available come December 1, 2014 at the Ministry of Tourism.