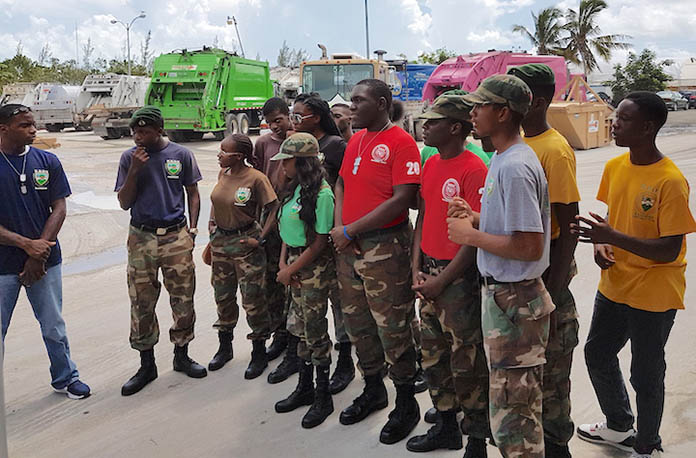 New Providence, Bahamas – With a reputation for catering to outdoor events of all types and sizes, Bahamas Waste's involvement in this year's Commonwealth Youth Games should come as no surprise. As a sponsor of the Commonwealth Youth Games 2017, Bahamas Waste provided some forty thousand dollars in equipment ranging from portable restroom facilities to hand sanitizing units all free of charge.
For this year's games, the company made a special effort to incorporate young Bahamians in keeping with the idea of "Youth Assisting Youth." Bahamas Waste joined forces with the Royal Bahamas Defense Force Rangers to engage a group of enterprising young Bahamians to help them provide the necessary services at the National Stadium and all other venues. Already, the partnership has generated discussions about future endeavors and has created apprenticeship opportunities for Rangers interested in both the mechanical and biodiesel fields.
"It was really important for us as a company to get young people involved" explained Operations Manager Ethelyn Davis. "We really wanted them to see that while the avenues of Sports and Athleticism are important, they are not the only way to be successful. We wanted to show them how the work we do at Bahamas Waste could present them with alternative career paths as well".
This collaboration is the first to take place between the Defense Force Rangers and Bahamas Waste and will see 15 young men and women work alongside Bahamas Waste techs at the Stadium site. The Rangers were given first hand training on important health and safety procedures and provided with the necessary safety gear as well.
"Our teams are on hand for all eight of the sporting events being contested for this year's games and at all the venues; Old Sports Centre, The New Stadium, The Kendal Isaacs Gymnasium, The Tennis Facilities, The Betty Kelly-Kenning Swim Complex, Bahamas Football Stadium and The Clifton Heritage Site for cycling," noted Davis. "We are very honoured to be a part of this International event and want to make sure we show the best of our island, and most importantly we want our guests to see it clean and pristine!"