By Kitt Grant, STEMBoard Tech Camp
Nassau, Bahamas – STEMBoard, the global engineering solutions company co-founded by award winning Bahamian-American engineer Aisha Bowe, is proud to announce that they will be spearheading their annual summer technology camp Hack.IT Bahamas from July 13-July 17, 2015 at St. Andrew's School in Nassau, Bahamas.
Last year's camp was a tremendous success, with a distinguished team of professional engineers, scientists, and technologists teaching and encouraging the youth of the Bahamas to pursue opportunities in Science, Technology, Engineering, Mathematics (STEM) fields. This summer, these specialists, led by STEMBoard founders Aisha Bowe and John Martellaro, have created a program that is even more innovative and inspiring to further spread awareness and decrease the knowledge gap in STEM for the Bahamian student population.
This year's camp participants will be honored with a keynote address by Dr. Bernard A. Harris, Jr., the first African-American to walk in space. An astronaut and veteran of two shuttle missions, Dr. Harris will not only deliver his life lessons and inspirations to the students during the culminating camp activities at St. Andrew's, but will also present the students with his book, "Dream Walker: A Journey of Achievement and Inspiration".
Dr. Harris added "Technology is at the heart of everything that we do in this world. For our students to effectively participate, they must be knowledgeable in the science, technology, engineering and mathematics (STEM) fields. STEMBoard provides an environment that prepares them to become the next generation of scientists, engineers, entrepreneurs and leaders of the Bahamas and the world."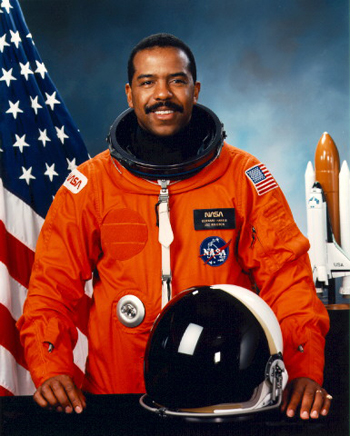 With the support of the Ministry of Education, Science and Technology, STEMBoard is working to ensure an even more diverse student body for this summer's technology camp by having balanced student representation from both the private and public schools.
STEMBoard is very excited to partner with St. Andrew's School, The International School of the Bahamas to host this summer's 5-day camp. The camp will be free to students in grades 9-12 who are selected to participate. These students will have the opportunity to learn at one of Nassau's pre-eminent scholarly campuses. Founded in 1948, St. Andrew's has a long and proud tradition of providing an education of the highest quality to their students. St. Andrew's reputation for Ethics and Excellence is recognized internationally, with many of their graduates going on to study at the world's leading universities.
Principal Robert Stitch remarked, "St Andrew's is very excited about the upcoming STEM camp. This camp will provide a fantastic opportunity for students in the Bahamas to experience global 21st Century learning. We are very happy to be able to share our wonderful campus in order to host this event. St Andrew's prides itself on being the international school that is proudly Bahamian. The hosting of this event clearly fits our mission and vision."
For this year's program, STEMBoard has given students the opportunity to pick the education track of their choice based on the curriculum which is divided into 3 disciplines: Aerospace/Mechanical Engineering, Computer Science/Web Development and Civil/Electrical Engineering.
This year's camp will culminate with a $1000 prize awarded to the the student team who best leverages problem solving, innovation and technical skills to develop solutions that improve aspects of Bahamian life. On the last day of camp students will have 10 minutes to present their projects and business plan before a panel of accomplished judges.
STEMBoard Co-founders Aisha Bowe and John Martellaro and their team are putting all their resources toward exposing Bahamian students to the myriad opportunities that exist for those who pursue STEM careers. An Exuma Bowe, Aisha has deep ties to the region with the majority of her family members residing in Nassau and The Family Islands.
Ms. Bowe said "We are honored to continue our efforts in bringing world-class opportunities to the youth of the Bahamas. With a focus on technology entrepreneurship, this year's camp promises to not only educate, but seed the next-generation Bahamian entrepreneurs and technologists."
For information on how to apply for Hack.IT STEM camp, please go to www.bahamascamp.com
For more information on STEMBoard, please go to www.stemboard.com.