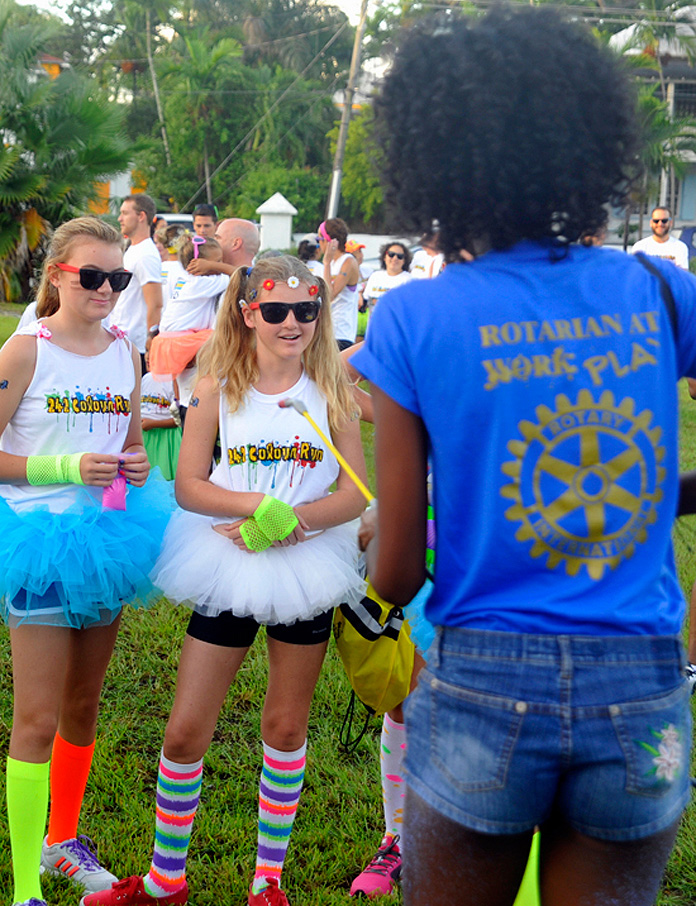 Nassau, Bahamas – December 15th, 2015 – The 242 Colour Run is taking place in Nassau on December 20th with a holiday twist. Registration is available at Party Land in the Harbour Bay Shopping Plaza or online through run242.com
The Nassau event will take place at Eastern Parade and Green Parrot (Nassau) and the 5km route will wander down East Bay Street to Montagu, returning with an optional over-the-bridges leg for those looking for a challenge. The race is unlike most, as there are no official times and no winners or awards handed out. After the race, prizes are drawn by bib number, so everyone who enters has an equal chance of winning.
Each participant receives a race bag which includes a shirt, custom bib number, funky sunglasses, temporary tattoos and promotional products such as Panama Jack sunscreen and goodies like Go-Ahead biscuits. This years participant prizes are racking up, and include gift certificates and prizes from local companies such as Lightbourne Marine, Biggity Boutique, Back To Health, and Harbour Safaris.
The event is extremely family friendly and people of all ages and abilities walk or run through the course. Family, coworkers, schoolmates and friends can get together to form teams to challenge the course. The event has a holiday theme this year, so participants are encouraged to dress up in their holiday best – prizes will be awarded for overall best costume for male and female.
The 242 Colour Run was founded in 2013 and has occurred numerous times throughout Nassau, Freeport & Abaco. The event works in conjunction with local Rotary Clubs and has donated over ten thousand dollars to the clubs in support of their various community service programs. Thousands of people and hundreds of teams have participated, many of them in multiple events on different islands.
The event will benefit the Rotary and Rotaract Clubs of East Nassau. Rotary has many on-going programs it supports with the funds raised, including the Fox Hill Run, a food distribution program for needy families. Rotaract is the young-adult branch of Rotary, and supports various community-service programs throughout the year.