Brent Symonette OUTSIDE the government complex just before he swore in more new citizens of the Bahamas.
Citizens for VOTES!
Nassau, Bahamas — Photos taken earlier today just outside the OPM where Brent Symonette is in Grand Bahama.
There he regularized a number of persons as newly minted CITIZENS of the Bahamas. The move is to fact track the FNM's CITIZENS FOR VOTE PROGRAM before the general elections.
More than 10,000 persons are alleged to have been regularized by the Ingraham government to vote; many of which have NO LEGAL ADDRESSES IN THE COUNTRY!
WE REPORT YINNER APPLY!
We can report Theo Farquarson, uncle of Calvin Farquarson and a FNM general and goon for a Party, assisted some of the persons naturalized today.
Farquarson sat in the OPM along with Brent Symonette as they made conversation witnessing the event.
Bahamas Press cries DUTTY shame on the Ingraham Government for its desperate act to make hundreds of residents only weeks before a general election citizens.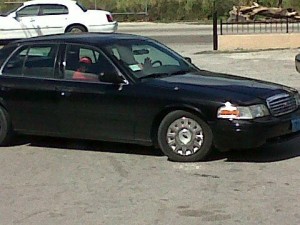 Meanwhile, FNM are up and down wasting gas in government vehicles.
In this photo blow the mother of Zhivargo 'Lying' Laing is dressed in FNM campaign clothes – chauffeured in the ministry of finance car – campaigning.
Laing's diver, Julian Coakley, drove the car.
It was report that he was ordered to pick her up along with friends to campaign throughout the day door to door in Fort Charlotte.
They have no damn shame.
We report YINNER DECIDE!