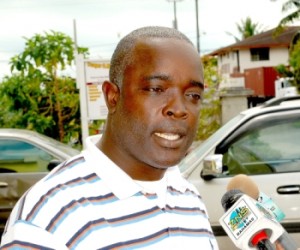 Omar Archer in trouble with the law
Nassau, Bahamas — FNM supporter, Omar Archer, was arrested on Saturday, March 17th at his house in Nassau Village.
He is alleged to have thirteen warrants of arrest for numerous matters before the courts.
He was detained at the Elizabeth Estates Police Station.
Archer was the political activist who openly bad mouthed the opposition party on a number of occasions. Of late he has been quiet – hushed into seclusion by the FNM. And we wondered why.
Hopefully the courts will make a clear example of this man who has built his life on making believe. Or will the court?
Archer, you would remember, was known for his anti-police smear attacks following the Desmond Key issue. He has often criticized the Force following incidents of brutality with Rapid Strike last year, and now he is in trouble with the law himself.
A supporter of Carl Bethel, Omar will be arraigned sometime this week.
Here is another story you will not hear a damn word about in the DUTTY TERLET PRESS!