Are you concerned about the Government Customs Fees and Regulations?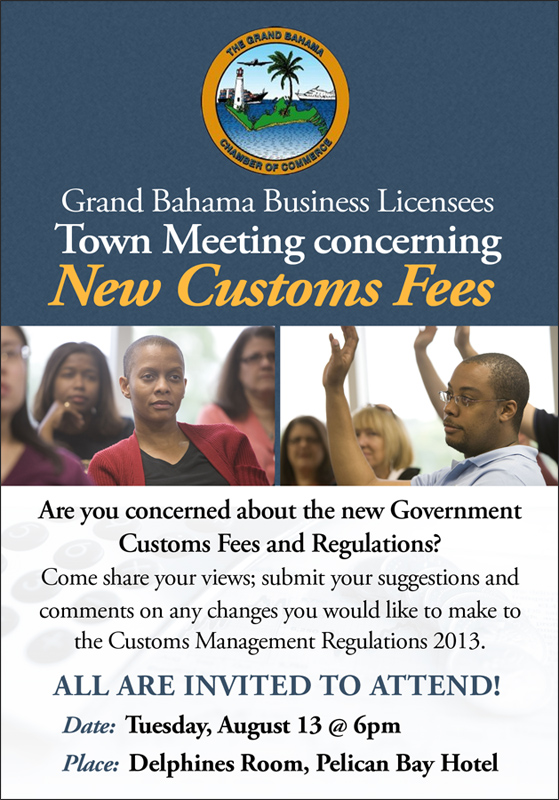 Come share your views; submit your suggestions and comment on any changes you would like to make to the Customs Management Regulations 2013.  ALL are invited to attend on Tuesday, August 13th at 6pm at the Delphines, Room, Pelican Bay Hotel.
Freeport, Bahamas – Since the announcements of early July, the Grand Bahama chamber has followed with close interest, on behalf of business licensees and members across the island, the anticipated impact and intense  public comment, caused by changes in customs tariffs.  The Grand Bahama Chamber of Commerce has consulted its members, and has sought clarification, on subject  tax changes before rushing to public comment.
Clearly there is a strong and consistent view within the business community:
that there was a significant absence  of public consultation, before these far-reaching changes to the customs tax code were put in place;
that in drafting the changes no substantive  consideration was given to the specific  impact  on industrial  and commercial competitiveness  of Freeport under the Hawksbill Creek Agreement;
that many of these newly-introduced  changes will  specifically harm the already weak economic recovery of Freeport;
that fall out will affect the competitiveness of international and local businesses operating from Freeport, and risk the loss of jobs;
that most, if not all of the all of the resultant increases in cost to business, will ultimately be passed on to the Bahamian public, driving up their cost of living;
that our economy  as a whole will bear the burden of  further impediments to cost and ease of conducting business in Grand Bahama.
In response to these concerns membership of the chamber supports, and has directed that action be taken, having consulted  with Grand Bahama Port Authority and government, to preserve the competitive  economic advantages and opportunities for both  domestic and international business  to invest in Freeport, and to maintain Freeport as a viable centre for  trade and commerce.
This effort is not intended to be confrontational, but more consultative to gain a full understanding of what is permissible under the Hawksbill Creek Agreement with respect to these changes.