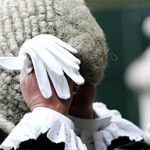 Nassau, Bahamas — A big time former Magistrate and senior officer of the court will be charged on Monday for stealing money from a client.
Bahamas Press reports, police will charge disbarred lawyer, Andrew Thompson, on additional counts of fraud after the rogue attorney is alleged to have stolen more than $40,000 from a client.
Thompson, many would remember back in 2008, had an action brought before the Bar Council by a number of clients who made claim that the former magistrate had stolen more than $230,000 collectively from them. A deadline was set for the repayment to be made on the debt; however, Thompson failed to meet the deadline.
Bar Council officials warned that his failure to do so by the September 17, 2008 deadline would result in him being disbarred.  His name we are told was later struck from the register.
Thompson had taken the funds of a number of clients who were being financed through lending institutions, however, the funds never reached the clients accounts.
And from what we have learnt, despite being disbarred, the rogue officer of the court continued practice in secret.
In this latest incident BP wonders how swift would his punishment be or will this be another case dragged before the courts at a snail's pace, while members of the public continue to be shafted! We shall wait and see.
A number of rouge lawyers are finding themselves before the courts these days, and the numbers keep growing.
A couple of months ago another big-time lawyer and a member of the FNM finance committee was hauled before the courts after being accused of stealing more than $80,000 from a client. Nothing has been heard from the case and the big-time FNM is still practicing at the Bar.
Boy, that could not be the boy from Bain Town!