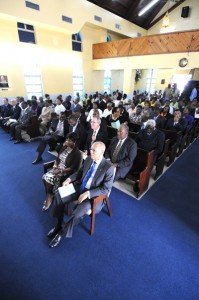 Nassau, Bahamas — Just a day after a National Day of Prayer, detectives are combing the scenes of three murders here in the capital.
Sources in the position to know tell us, three men have been gunned down early this morning leaving no leads to the crime scene.
BP agents investigating these murders tell us, two of the incidents occurred in Ridgeland Park area and right now, another scene is at Palmetto Ave.
The incidents climbed the murder count to 286 murders since 2009, with some 20 suspicious deaths are still unclassified by police.
According to BP's murder count, the number of incidents brings this year's count to 96, just two murders shy of the 98 recorded last year.
Meanwhile, BP agents on the island of Cat Island at this hour tell us detectives are following a tip that 20-year-old, Garrison Pyfrom, has been spotted in the area and is believed to be hiding out with family.
Pyfrom is on the run from police following the murder of 17-year-old, Courtney McKenzie. The crime of murder occurred in Exuma last August.
Bahamas Press, on the heels of A Nation Crisis is calling on the Obama Administration to fund two BlackHawk fighter helicopters to assist the Bahamas in its fight with the growing crime problem across the country.
A BP NEWS ALERT: Bahamas Press understands Leader of Her Majesty's Loyal Opposition and front runner for the leadership of the country is meeting with seniors advisors at this hour. BP is told, Perry Christie, will arrive at Sir Lynden Pindling Centre at 1:45pm today following his briefing to address members of the media. Mr. Christie shall, we are told, raise concerns over the high-level of crime and murder which has rocked our once peaceful and tranquil nation.