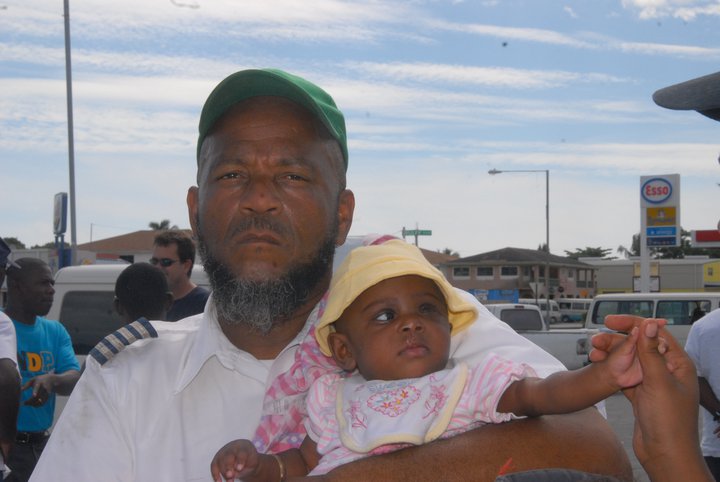 Nassau, Bahamas — Political activist Rodney Moncur holds up baby angel before a camera during a successful March for Justice to hang murderers in the Bahamas on Monday.
Bahamas Press is reporting a complete miracle of the young baby girl that was cruelly shot near the Solomon's Wholesale Foodstore in August.
The body of Raymond Bastian hoisted into a van parked in the Solomon's parking lot on a warm Saturday evening in August as a gunman opened fire on him and his baby girl as they drove into the parking lot. Bastian was known to police and was a suspect in another murder. He turned crown witness for a trial involving convicted robbers in the Prince Charles Shopping Centre, which was set for the Tuesday following his slaying.
What readers have yet to be told is this; Bastian's alleged killer was the man gunned down several weekends ago, in the presence of a prisoner who was released on the work scheme.
The minister of national security, Tommy Turnquest, has yet to explain the status of the security breach at HR Majesty's Prisons and has yet to detail the status of the prison work scheme to the public; where prisoners are allegedly complicit in crimes while walking around terrorizing the society!
Workers Party leader, Moncur was exciting at the massive motorcade display stating, "Hundreds of Bahamians heeded the national call to march through the streets of New Providence to demand that the FNM government deny persons charged with murder bail and to hang promptly once committed to death by the courts."
Moncur added he was encouraged with the success of the event.