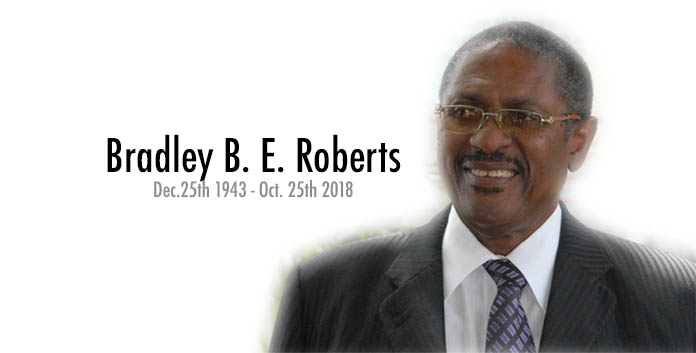 By Alexander James
Senior Editor Bahamas Press
Nassau – There is a story in all of us, one that paints a portrait of our time here on earth. And in every sketch there are bright sides and shadows, depicting our contributions and challenges.
Today, it is hard for me to write and tell the story of Bradley Bernard Roberts. He was a good friend. A nationalist. A true patriot. A man who was self-made who grew up in a time when black men did not stand a chance. He was kind and virtuous in spirit.
In a personal way, he was civil and polite, but, while on the battlefield of politics, his rare bombastic firebrand style showed a steady focus on his target as he crushed and trampled the political giants he fiercely and ferociously destroyed on the platform.
Bradley's style was a rare kind; one that had not been seen in our country since Milo Boughton Bulter traveled our way. He will be missed.
I had the good pleasure of watching and witnessing his unflinching defense of the poor down in his constituency office, right there on Quakoo Street in the heartland of the Bains and Grants Town Community. Sessions with residents from the surrounding community went well into the morning there, with him addressing every individual's concerns before retiring home. Roberts did that for an unbroken 25 years as an MP. But he had done the same before being elected to Parliament and long after leaving Parliament – he was a man who knew how to serve his people.
But Bradley's staunch commitment to his people was not to just address their concerns; he got to know the people. He wanted to know their birthdays, when they got married, how many children they had and who were their mah and pah. And his dedication and concern for them inspired an unbreakable loyalty and devotion to him. You see, he was deeply committed to them and they were dedicated to him. Many knew as long as Bradley was around they had a voice – a loud voice at that – to fight for them.
He was one of few MPs during his time, who owned his constituency office. It was an office he made readily accessible to the people.
One time, I went to the office to examine how this giant of a man performed his service to the community. It was during that visit that I realized the ginormous range of interventions and assistance he gave in his contribution to mankind. At that visit I saw a woman who had come to see Bradley. She could not afford to address a health challenge she was facing. That resident informed him how she had exhausted her every resource to have a simple exam done and she came in search of Bradley.
After hearing her plea, Bradley quickly moved into action. Perhaps someone else's response would have been one of kind pity, but Bradley's response was different. He quickly picked up his telephone and began to dial. And while he waited for the line to pick up he exclaimed, "You see why National Health Insurance is so important for our people?" His intervention arranged help right there on that telephone line as he instructed that the woman's needs be met as early as the next morning. While speaking with the person on the other end, he began penning some notes as if he was writing a prescription. That note, along with a financial contribution, enclosed inside, was handed to the woman. She was healed!
I never discussed that meeting between the lady and Bradley until now. And this was just one incident that was multiplied all through his life. Testimony of his generosity and benevolent spirit was never-ending and pure. And it was that example and experience that made me realize that this was someone special who passed this way. It is this kind of love for people that is so absent in service today. And, it this kind of dedication we need in politics; persons with ability to intercept and solve problems.
On my last birthday, when we decided to celebrate with breakfast, he presented me with his autobiography. He said, "It's all in there, my friend. I had it completed for a some time now, but was only waiting to release it at the right moment." I was filled with pride that, finally, someone who had spent his life in service to the people – someone I knew – had encased his journey with us in his own words. I was overjoyed! Bursting with pride to see his narrative, his story not told by anyone – but documented by him.
And at the back of the book was a personal message, which I soaked in deeply and it went like this:
"I never started out thinking I was going to be a politician. Politics was hardly ever discussed around the dinner table when I was growing up. But as fate would have it, I was lucky enough to have lived during moments of great historical change in the Bahamas and even luckier to have been given the opportunity to contribute in the shaping of my country.
[And here's the part that I really soaked in] "I was not unique or special growing up. I had no particular talents. What I had was the determination to work hard. With seven children to feed, clothe and educate, my parents could afford few luxuries in our little wooden house in Delancey Town. Yet somehow, I persevered against many odds that were stacked against black people in the Bahamas in the 1950s and 1960s. I managed to make a name for myself. I managed, with the strength of incredible friendships to make a good living in business. I managed, for which I am most honoured and proud, to be a servant of the people of the Bahamas for more than a quarter of a century of my life.
"All in all, for the kid who started out selling vegetables grown from dirt I dug up from the graveyard on Augusta Street, I didn't do too bad for myself." – Bradley Roberts.
To this I add that there are too many stories to tell, too many victories won and mountains climbed by Bradley. We will miss you Bradley. And I will miss most certainly your every weekly columns which presented a strong defense for our people. We will miss your loud, powerful, heavy-duty voice for our country. We will miss your fierce sometimes-violent protection of your fellowmen.
To your dear wife Hartlyn and to all his children Michelle, Obie and Nicole thank you for sharing your world with us.
And so, as you close this chapter of your life, causing us to smile in bitter grief, It is my prayer that the GOD of all mercies open to you the gates of life eternal and grant you rest and peace forevermore.
Farewell, my dear friend, farewell – until we meet again.
We report yinner decide!