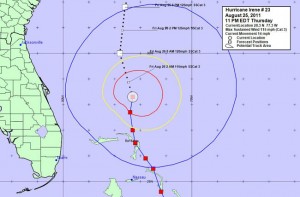 THIS IS ALERT NUMBER THIRTY-SEVEN (#37) ON HURRICANE IRENE ISSUED BY THE BAHAMAS METEOROLOGICAL DEPARTMENT, AT 12 AM EDT FRIDAY, 26THAUGUST
2011.
… EYE OF IRENE GRADUALLY MOVING AWAY FROM THE BAHAMAS.
A HURRICANE WARNING REMAINS IN EFFECT FOR THE ISLANDS OF GRAND BAHAMA AND ABACO.
THE ALL CLEAR IS NOW ISSUED FOR THE ISLANDS OF NEW PROVIDENCE,
ELEUTHERA, BIMINI, ANDROS AND THE BERRY ISLANDS.
AT 11:00 PM EDT, THE CENTER OF HURRICANE IRENE WAS LOCATED NEAR LATITUDE 28.3 DEGREES NORTH AND LONGITUDE 77.3 DEGREES WEST ABOUT 88 MILES NORTH OF COOPER'S TOWN, ABACO AND ABOUT 223 MILES NORTH OF NASSAU.
IRENE IS MOVING TOWARD THE NORTH NEAR 14 MILES PER HOUR AND THIS MOTION IS EXPECTED TO CONTINUE DURING THE NEXT 24 HOURS. A GRADUAL TURN TOWARD THE NORTH-NORTHEAST SHOULD BEGIN THEREAFTER. ON THE FORECAST TRACK IRENE WILL CONTINUE TO MOVE AWAY FROM THE BAHAMAS. TROPICAL STORM FORCE WINDS COULD BE EXPERIENCED IN GRAND BAHAMA AND ABACO UNTIL FRIDAY MORNING.
MAXIMUM SUSTAINED WINDS ARE NEAR 115 MILES PER HOUR WITH HIGHER GUSTS. IRENE IS A CATEGORY THREE HURRICANE ON THE SAFFIR-SIMPSON HURRICANE WIND SCALE. SOME STRENGTHENING IS POSSIBLE ON FRIDAY.
IRENE IS A LARGE TROPICAL CYCLONE. HURRICANE FORCE WINDS EXTEND OUTWARD UP TO 80 MILES FROM THE CENTRE AND TROPICAL STORM FORCE WINDS EXTEND OUTWARD UP TO 290 MILES FROM THE CENTRE.
RESIDENTS ARE URGED TO REMAIN IN DOORS IN ALL OF THE ISLANDS IN THE
WARNING AREAS. USE OF THE STREETS IN THE WARNING AREAS SHOULD BE FOR EMERGENCY PURPOSES ONLY, AS MOST WILL BECOME IMPASSABLE DUE TO LOCALIZED FLOODING.
SMALL CRAFT OPERATORS IN THE NORTHWEST BAHAMAS SHOULD REMAIN IN PORT.
THE NEXT ALERT WILL BE ISSUED AT 3:00AM EDT.
(PREPARED BY JEFFREY W. SIMMONS)