Bahamas welcomes Ardyss International founders, Mr. and Mrs. Antonio Díaz de León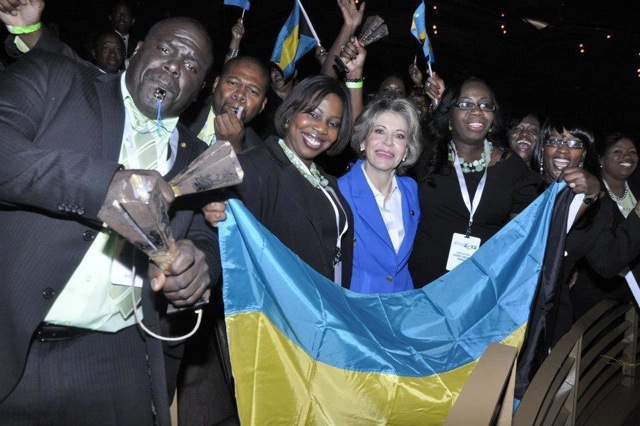 Nassau, Bahamas (July 16, 2013) – Ardyss International founders, Antonio and Armida Díaz de León, will address a special opportunity workshop on Saturday July 20th at 10:00am at British Colonial Hilton Nassau, located downtown at # 1 Bay Street.  General Manager, Phillip LeBlanc, will accompany the founders, and is expected to make important announcements concerning the Bahamas market and its ongoing partnership with Ardyss.  This highly anticipated event is extended by invitation to members of the public and is free of charge.
Ardyss International has been instrumental in improving the job outlook and lifestyle of Bahamians. Amid a global economic recession, Ardyss experienced growth of 800% between 2008 and 2010, with the Bahamas an active participant in this growth. Shortly after partnering with Ardyss, Dr. Karen Johnson (Executive President) from South Carolina, a descendent of the Bahamas, approached the company about opening the Bahamas market.  In 2009, Ardyss was introduced locally and quickly became known for Body Magic and Le'Vive, among the many products offered. Bahamians eagerly embrace the opportunity to be their own boss, gain financial independence and the ability to leave an inheritance for their children for generations to come. More and more Bahamians are telling their story of becoming debt free. It has become reality. They are paying off mortgages, overdue light and phone bills, and providing vacations and new vehicles for their families.
The Ardyss business model fosters teamwork and personal development.  Within the brief years since 2009, the Bahamas team has produced some of the most outstanding leaders and ranks within Ardyss International, adding another Executive President, Anastacia Lewis, who has worked the Freeport and Nassau Market consistently.  The Bahamas has also produced 5 more Presidents: Paulette Zonicle, Delores Burrows, Keenya Jones, Pauline Blenman and Ruthann Lightbourne, as well as Directors, Managers, Supervisors and Coordinators.
The Ardyss growth spurts have become so explosive in the Bahamas that the founders of this great company find it necessary to make a touchdown here and celebrate with the Bahamas team, sharing how to advance and succeed further.
Today a leader in the reshaping and wellness industry, Ardyss humbly began in 1991 as a Mexican manufacturing company with a new concept for corsetry, designed to reshape the female figure.  After experiencing some hard times, losing his job in the Customs Department in Mexico, Mr. Díaz de León sought new work opportunities that were unavailable to him.  With his wife Armida Fonseca, and their two sons, Antonio and Alejandro, he decided to start his own business that would help other people.  Without any experience but equipped with only a great desire to learn, the family became successful with Ardyss because of their hard work and dedication.  In 2007, Ardyss opened the door for thousands of people to be a part of their success through its relocation of headquarters to Las Vegas, Nevada and its change to a network marketing business model.
Excitement is in the air as local distributors prepare to give a Bahamian welcome to Ardyss founders, affectionately called Papa and Mama.  This opportunity is changing Bahamian lives and the team is happy to invite the community to meet Ardyss founders at Saturday's event.  Real Bahamians will share their success stories of defeating sickness, excess weight and financial lack.
Ardyss leads a team of dedicated professionals who support the Díaz de León's dream of boosting self-esteem and mission statement of "An appointment with Ardyss will change your life!"
About Ardyss International
Ardyss is a company that was created on the basis of family and helping others achieve their dreams. At the forefront of Ardyss' vision is the Díaz de León family's desire to share the concept of "family" throughout the company and with its international family of Independent Distributors.  Family is our foundation and our Distributors are not only our partners in reshaping and reviving the world, but are important members in our international family.  Those that partner with Ardyss not only gain a new figure and better health, but also lasting success that serves as a foundation for future generations.  Ardyss has all the key components in place to assist our partners in their pursuit of their health and wellness goals, financial freedom and their desire to provide a better future for their children.