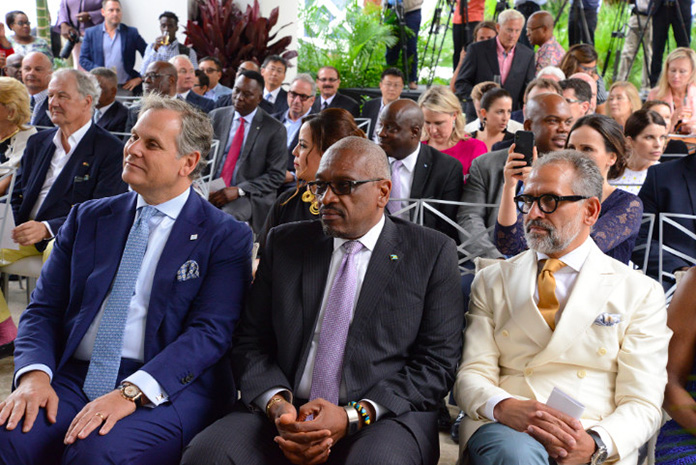 NASSAU, The Bahamas – Prime Minister, Dr. the Hon. Hubert A. Minnis applauded Baha Mar for contributing to the economy and acclaiming local art at the official opening ceremony for Rosewood Baha Mar on Tuesday, May 22, 2018.
It marked the completion of the three-phased development of three luxury brand hotels at Baha Mar.
"In addition to the significant contribution Baha Mar is making to the economy of The Bahamas, you are also making a contribution to cultural development," the Prime Minister said.
Rosewood now joins Grand Hyatt and SLS, for a combined 2,300 guest rooms on the transformed Cable Beach. Baha Mar is slated for other new features that will add to its brand, aimed at further transforming that picturesque western strip of New Providence.
Now the largest resort in the Caribbean, Baha Mar boasts over 40 restaurants, various sport offerings, a luxury spa, luxury retail brands, an arts center and program, and a modern convention center.
The Prime Minister congratulated all involved in the opening of Rosewood Baha Mar, including Chow Tai Fook Enterprises Ltd. and Baha Mar's President Graeme Davis, his management team and staff.
Baha Mar has over 4,000 employees and will welcome more than 450 employees at the Rosewood property.
The Prime Minister noted that with its successful "Life Spectacular" marketing campaign, "Baha Mar is doing exceptionally well, with excellent prospects for long-term bookings."
The Rosewood brand is well-known for its sense of place philosophy, which seeks to reflect the architecture, history, culture and sensibilities of a destination.
Rosewood, a global hotel company with over 23 hotels and resorts, boasts a number of iconic properties, including: Hotel de Crillon in Paris, Rosewood London and The Carlyle in New York City.
"We are pleased that Rosewood now joins the collection of luxury properties at Baha Mar," the Prime Minister said.
Rosewood is known for elegance, and for encouraging a love of travel and sense of adventure and exploration for those who enjoy its brand.
In this spirit, The Prime Minister encouraged Rosewood and all of the brands at Baha Mar to incorporate heritage tours and cultural experiences off property for guests.
"We also look forward to Rosewood's ongoing exploration and appreciation of Bahamian heritage and arts, as it continues to blend our culture with its brand here at Baha Mar," he said, adding that "such a sense of place will benefit The Bahamas and Rosewood at Baha Mar."
The Prime Minister said he was also pleased that Rosewood is showcasing a part of the art collection from Dawn Davies, who, over the decades, has demonstrated, in the name of one of her books, a dedicated "Love and Responsibility" in encouraging Bahamian artists.
"There are few resorts in the region or globally that have such a strong commitment to incorporating the arts into the visitor experience," he said.
The Prime Minister also observed the "wonderful work" of Baha Mar's Creative Arts Director John Cox and his exceptional, creative and talented team at the Current, the resort's permanent art gallery.
And, he further noted the development of Fairwind, an exhibit of Bahamian artistry that will be housed in the convention center. The Fairwind exhibition will encompass a survey of 100 years of Bahamian art, beginning in the late 1800s up to the contemporary practices of today.
The exhibition communicates both a visual and auditory narrative to viewers, exhibiting paintings, photography, sculpture, artifacts and multimedia.
In this vein, the Prime Minister encouraged Baha Mar operators to also showcase more arts, including film, literature and other expressions of Bahamian stories and culture.