Bolt will not be in the Bahamas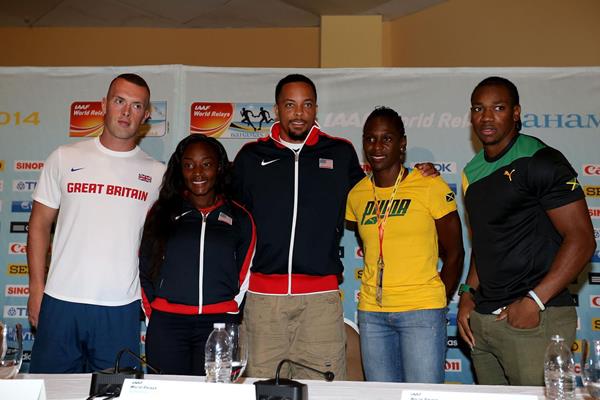 "Usain, unfortunately he can't be here, but he sends his regards to everyone and he's expecting someone to step up and fill his spot." Those were the words of Yohan Blake, the 2011 world 100m champion, at today's press conference, where 13 athletes from Kenya, the USA, Great Britain, Jamaica, and The Bahamas spoke to a packed press conference about this weekend's inaugural IAAF World Relays.
Blake, who trains with Bolt, acknowledged that as the leader of Jamaica's first 4x100m relay team in years without either Asafa Powell or Usain Bolt, he had some big shoes to fill himself. "I just want to keep the train going," he said. "I love relays myself and a good performance here would be a good return to competition for me."
"It's good to come here," to The Bahamas, in a time zone and climate the Jamaicans are used to, added Blake. "They'll see the best of us."
World records: it's on
Wallace Spearmon of the USA didn't need any prompting to put out his marker for the men's 4x200m final. "1:18.68. It will be broken," said Spearmon, citing the standing world record for that race, a mark which celebrated its 20th birthday last month. Spearmon, saying he considers himself a 200m specialist, celebrated not having to "pick between the 4x100m and the 4x400m."
Spearmon, sitting next to Jamaica's Blake and Kerron Stewart, didn't let diplomacy get in the way of stating his goals for the event. Although he admitted that the USA's sprint teams included a lot of young guys. "For a lot of them it's the first time representing their country," he went on. "But they are also a lot of kids who don't know their limitations, so they're not bound by them. We never race for second."
Hellen Obiri was similarly definite about the Kenyan women's intentions for the 4x1500m. "We set the world record* in our team trials, and we're only in better form now."
And she wasn't the only one. Leonel Manzano, the USA's Olympic 1500m silver medallist, suggested that his team would join Kenya's men in chasing the 4x1500m mark as well. "We've heard they plan to go after it," said Manzano, "and our hope is to be right next to them. Like Wallace said, we don't go out there to get second."
Happy for the chance
General enthusiasm about racing relays was the general theme. Both Spearmon and Bianca Knight were happy to be able to race a 4x200m. "It's my dream relay," said Knight. "Put me wherever I can get the job done."
Blake noted that with a 200m PB in the low 19s, including a block start, "imagine how fast I could do a relay leg."
Moderator Ato Boldon then cautioned them: "Don't leave early on the exchanges. 4x100m runners come in fast; 4x200m runners are dead."
Richard Kilty, Britain's surprise 60m world indoor champion earlier this year, ran rounds for the British 4x100m relay in Moscow before his "big opportunity" in Sopot. "I'll be leading the team off this time," he said.
World 800m champion Eunice Sum, who will be on Kenya's 4x800m team, was similarly excited to be racing here. She cited the reduced pressure of running on a team, and said she felt like Kenya was excited for the races.
Obiri, who will be shooting for the 4x1500m world record along with three more team-mates, explained that for her, pressure comes not from national expectations but "from the other teams on the track." If only she could run a 4x3000m, she sighed.
Spearmon was even ready to add more events to the weekend's program. "It took a lot of thought and planning to get this done, and it makes sense to start with the core events," he said. "But a medley relay would be a good event to have, to mix sprints and distance a bit."
Sanya Richards-Ross is looking forward to establishing a new tradition in Nassau. "I was heartbroken" watching the 2013 World Championships 4x400m, said Richards-Ross. The USA team, without her or Allyson Felix, fell to Russia for the first time in several championships. "It encouraged me to get back" from injury, she continued.
Richards-Ross has another motivation not tied to her national team: she wants the 4x400m back in the anchor leg of global championships. While in recent years the heroics of the Jamaican sprinters have made the 4x100m final the highlight of the last competition session, Richards-Ross says: "I'm still a little salty about that. I think the 4x400m should close meets. I understand why it changed, but I hope we can change it back soon."
Christian Taylor, the 2011 world champion and 2012 Olympic champion in the triple jump, was even more enthusiastic about being in the pool for the 4x400m. "I wasn't given the chance before," he said. "People counted me out because I jumped. I wanted to challenge myself and challenge the world. Now I'm seeing other jumpers saying they want to do more. This puts my foot in the door for the relay pool. Now I want to be in the final and go head to head with Chris Brown."
Chris Brown, of course, is The Bahamas' long-time journeyman 400m runner and the starting leg of the Olympic title-winning 4x400m relay team from 2012, and he was sitting two chairs away from Taylor. Boldon called Brown "The Godfather of track and field in The Bahamas."
"I came from a grassroots program, running on a grass track," said Brown. "It's been a long career and a long journey, but coming back to The Bahamas has always been bigger than gold or silver."
Brown and countrywoman Christine Amertil, twice a world indoor medallist, were effusive about the privilege of competing in their home country for the first time in a meeting of this magnitude.
"When you look up at a big meet," said Brown, "usually you see the Jamaican flags and the American flags. This weekend we'll still have the Jamaicans, but there will be plenty of our own flags as well. We're looking to put on a show here and bring some heat."
"The last time I ran here was 2005," said Amertil. "It's something special to be here. We have a history of relays, and they're the most important part of the sport for us. Anyone can do it and the success our teams have had helps. Our challenge is how to help our athletes make the transition from junior to senior competition, and keep the supply of athletes going."
In talking about The Bahamas' history with relays and their motivation for bringing the inaugural World Relays to the islands, Amertil shared a story which might have been that of any Bahamian athlete. In Sydney for the 2000 Olympic Games, where she ran the 400m, Amertil also witnessed the 4x100m victory of Bahamas' "Golden Girls."
"I was focused on the 400m," said Amertil, "but after Sydney even I wanted to run the 4x100m."
Parker Morse for the IAAF